Remember the hit craze of last summer when it seemed like every man, woman and their dog were dousing themselves in cold water for the Ice Bucket Challenge?
Well now there's a new game in town – and it involves being photographed while holding a Coke between your breasts.
An avalanche of women have apparently been posting photos of themselves with Coca-Cola containers stuffed down their cleavage.
One crazy chick wears a Darth Vader helmet and others have posted photos that leave nothing to the imagination apart from their nip nips.
It all sounds like harmless fun to us, but according to the UK's Daily Mirror the latest trend in fact began as a spoof-campaign that was launched by a modelling scout.
Never mind girls – it was fun while it lasted. Ginger Clam thinks you should carry on regardless.
* If you love crazy shit then check out BattleCam.com – the social site where there are great videos, wild pranks and live TV feeds.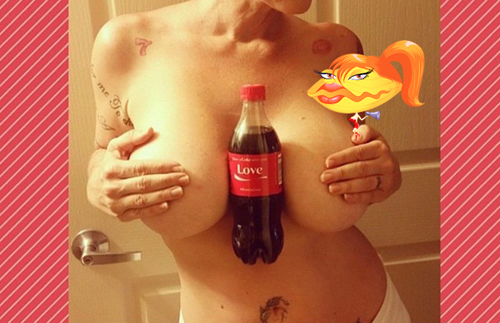 You may also like to check out these prank stories:
Prankster blows up grandma's car with machine guns!
Bikini prank! Guys freak out as 'hot girl' reveals she's got balls
Prankster pretends to pee himself in a packed elevator!