Major League Baseball celebrated Jackie Robinson Day again today for the 17th time since commissioner Bud Selig retired his #42 uniform on April 15, 1997, the 50th anniversary of Robinson's color-barrier-breaking debut in the majors with the Brooklyn Dodgers. In honor of Robinson all players wear #42 on this day, and there were a few notable events regarding this particular celebration. This was the first year that there were no players in the Majors that wore #42 normally — when Selig established the day in '97 players that already wore the number were allowed to be grandfathered in, and the last remaining player was Yankee closer Mariano Rivera, who retired last year. Inclement weather forced the cancellation of numerous games on the East Coast, including the New York contest between the Yankees and Chicago Cubs, which was to be preceeded by a ceremony involving Zondwa Mandela, the grandson of the late South African president Nelson Mandela (the ceremony was postponed to Wednesday night). This JR Day also marks the final celebration for Selig himself as commissioner, as he will retire in January 2015.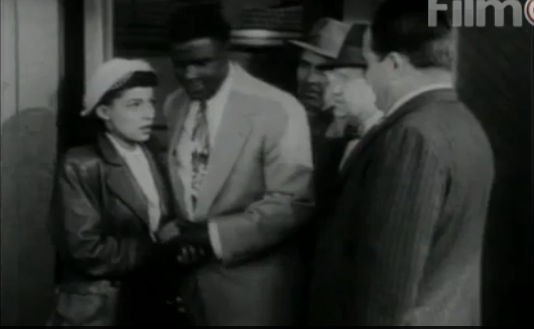 This is also the first anniversary of the release of 42, and we're fortunate enough to be able to present its predecessor, 1950's The Jackie Robinson Story, on FilmOn's VoD service. While not boasting the full color presentation or the marquee acting presence of Harrison Ford as Branch Rickey, The Jackie Robinson Story has a an unequalled presence in its lead role: Robinson himself, whose inherent dignity and intelligence transcends any moments of ham-handed scripting to give the film undeniable realism. And hey, the guy grew up in LA, so he's totally at ease in front of the camera and around actors. If you didn't manage to catch 42, this film touches on pretty much all the same points, with the benefit of Robinson's own perspective, as well as being just three years removed from the actual events, as opposed to 66. Oscar-nominee and Emmy-winner (Decoration Day) Ruby Dee plays Robinson's wife Rae, while veteran character actor Minor Watson plays Rickey and Bernie Hamilton (The Swimmer, Starsky and Hutch) makes his screen acting debut. Although, unlike 42, none of Robinson's Major League teammates or competitors are portrayed, one future Major League Hall of Fame manager does make a cameo as a rattled pitcher — Dick Williams, who would later take the 1967 Boston Red Sox,1972-73 Oakland A's and 1984 San Diego Padres to the World Series, winning both times with Oakland.
Get the latest on baseball with MLB Network: Intentional Talk:
For more streaming TV and movies, visit FilmOn.
TV Mix is owned by FilmOn Networks.
Follow TV Mix on Twitter: @tvmixusa
Contact TV Mix: editors@tvmix.com
SOURCE: TVMix.com