Long a fashion force in the music world, Trish Summerville rose to prominence by designing/styling for Pink, Christina Aquilera, Justin Timberlake and No Doubt. But Summerville shot to film fame in 2011 for the street punk look of Lisbeth Salander (Rooney Mara) the hacker heroine of director David Fincher's Girl with a Dragon Tattoo. This led her not only to a coveted Costume Designers Guild Award, but a Salander-esque clothing line for fashion-at-a-bargain retailer H&M.
When the studio Lionsgate wanted a palpable couture punch for The Hunger Games' rebellious heroine, Katniss Everdeen (Jennifer Lawrence) and they got it with Summerville who has been nominated by her peers at the CDG again for the second installment, Catching Fire. And it's no surprise she also got to design a quite pricey Capital Couture line available only on Net-a-Porter. Yes, you too can wear a shorter version of Katniss's Catching Fire dress for a mere (gulp) $750.
You might also like: Designer of new Batman suit turns to deep cleavage and '70s fashion for Jennifer Lawrence in American Hustle
For Games, Summerville worked her connections with Alexander McQueen and Dutch avante garb designer Iris Van Herpen for Effie Trinket's outrageous costumes and Indonesian designer Tex Savario for Katniss's pivotal plot point, her metal bodiced wedding dress. It became a peak moment in the film for the designer.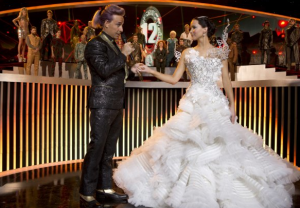 "When I saw the film with an audience," she says, "It was really nice to see the reactions when she spins from the wedding dress to the Mockingjay dress."
Summerville researched feathers from black birds, ravens, blue birds, mocking birds and peacocks, working closely with illustrator Phillip Boutte.
You might also like: Can the costumes of the Great Gatsby win an Oscar?
"He and I laid out all the different shapes of the feathers and brought in a little more dramatic and color," she explains. A supplemental printing on layers of silk chiffon and metallic chiffon provided the light as the dress spins. "It catches a nice light as she spins the dress lifts. It also has a little bit of glisten and you can see the pattern of the wings come down and fold over."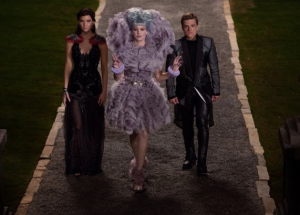 She also enlisted her friends, designers Flavie and Clayton Webster, who work out of Cerre, their West Hollywood boutique. The couple, who made Salander's leather jackets and backpack in Tattoo, created Peeta's sleek fitted green leather Moto jacket. Juun J, a Korean designer she loves, made a lot of Peeta's clothes, as well as Nicholas K, whose clothes Peeta wears in the Victory Tour.
You might also like: Guys, meet your next crush: Why Jenna Marbles isn't just for teenaged girls anymore
Summerville admits she had the most fashion fun with Effie Trinket who wears predominately Alexander McQueen frou frou fantasies with razor sharp waists and teeters around on perilous platform stilettos, including a fang-like pair by Herpen.
One of Summerville's favorite finds for Effie was a fabric she calls the Confetti Fabric. "It was this three dimension printed leather that looks like tons of multicolored confetti with black butterflies with gold leaf that looks like they are in flight". To top it off, Banks makeup artist Ve Neill glued tiny butterflies on her arms so it looked like they were landing on her.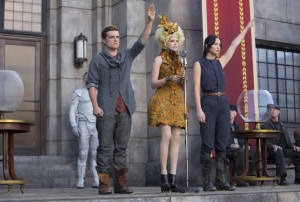 One change she made from the first film was making the Peacekeepers look more sinister with praying mantis head helmets and cockroach chest plates inspired by Alexander McQueen and sci-fi illustrator H. R. Giger's work. "I'm really happy with the way they look. I think there's a good insect quality about them."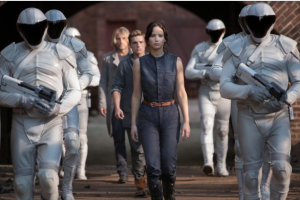 Other than costuming hundreds of extras for a Panem party scene, Summerfield's biggest costume challenge was the unitards and shoes for the Games Arena that had to fit 24 different body types ranging from age 19-79, and everyone had to swim and run on lava rock.
"We ended up with quite a collection of sand in the shoes," Summerville says. "And we had a couple of zippers that broke but that was about the worst malfunction. So that's not bad!"
Not bad at all.
You might also like: Spike Jonze's Her: How to tell if your significant other is cheating on you with an operating system 
Fashion is always topic A on Global Fashion News, streaming live via FilmOn:

Follow TV Mix on Twitter: @tvmixusa
Contact TV Mix: editors@tvmix.com
SOURCE: TVMix.com