Cristiano Ronaldo dos Santos Aviero, or 'CR7,' has regained his Golden Ball. Yesterday, the Portuguese soccer player for Real Madrid won the FIFA Ballon d'Or trophy for the second time, after four straight years of playing second place to his chief rival for ultimate soccer superstardom, Argentinian Lionel Messi of Barcelona F. C. (Messi was gracious, downplaying the injuries last year that somewhat lowered his statistics, unlike the Gall-ironic modesty of third place finisher Frank Ribery or the braying supporters of Liverpool's dark horse/beast Luis Suarez). At the podium Ronaldo was highly emotional, wiping away tears as Pelé, the Brazilian who is perhaps the soccer equivalent of Babe Ruth, held up his son (by an as-yet fairly speculative baby momma), also named Cristiano, to kiss the trophy. This morning the ESPN FC store was already plastered wall to wall with his No. 7 shirts for Real and the Portuguese national team, whom he has lead to this June's World Cup in Brazil.
You might also like: Vintage Tennis: An obsession, a philosophy
If you are still caught up in the hoopla and ceremony surrounding soccer's highest salaried player and recipient of its highest accolade, I suggest a couple of films in tribute to the hero's journey and golden rewards–all available on demand via FilmOn. First, a little short to start things off, and a tweak on CR7's big toothy smile and preference gelled-up hairstyle: Felix the Cat and the Goose That Laid The Golden Eggs (1936), which simply parallels in Kartoon fashion our real-life hero's iconic trial: possession of the golden trophy (goose), its loss to Messi ('Captain Kidd'), and its recapture to much jubilation (and hopeful sharing of wealth).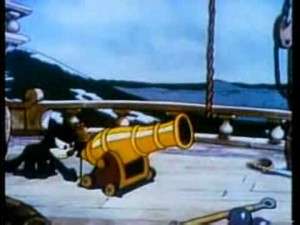 Felix the Cat and the Goose That Laid the Golden Eggs is available to watch on demand via FilmOn.
Follow this with Giants of Thessaly (1960), subtitled The Argonauts, an Italian Peplum film recounting the travails of Jason and his mythical nautical team to capture the elusive Golden Fleece. Polyglot Swiss actor and sports enthusiast Roland Carey ably fills the title role (after a long  intriguing career he would play a drug dealer in the third of Kryztof Kieslowski's tri-color, 1994's Red), and his slick crew would be more than at home among the Cariocas in Rio this summer.
You might also like: Gotta Watch: Serge Gainsbourg in Fury of Hercules
Bradley Cooper-ish Italian Cinema great Massimo Girotti would continue to play roles in Pier Paolo Pasolini's Teorema (1968), Bernardo Bertolucci's Last Tango In Paris (1972) and return to Luchino Visconti in L'Innocente (1976). Raf Baldessare would grace Spaghetti Western classics Fistful of Dollars (1964), A Professional Gun (aka The Mercenary) (1968) and The Great Silence (1968), while Gil Delamare would pursue a career as a race and stunt driver before being killed in a crash in France in '66.
Epic music is appropriately provided by Carlo Rustichelli, who among countless other soundtracks contributed to Divorce, Italian Style (1964) and Fellini's Satyricon (1968). Sit down, enjoy Cristiano…
Giants of Thessaly is available to watch on demand free via FilmOn.
You might also like: Gotta Watch — World Cup edition: The Glitterball (1977)
Watch FilmOn Football for streaming football 24/7:

Follow TV Mix on Twitter: @tvmixusa
Contact TV Mix: editors@tvmix.com
SOURCE: TVMix.com