Is it a Banksy? Is it anti-capitalist performance art? Is it enemy propaganda from Coffee Bean? Is it Starbucks doing a meta marketing campaign?
These were all questions Los Angeles residents were asking each other after "Dumb Starbucks" mysteriously appeared in a strip mall on Hillhurst Ave. in Los Feliz on Feb. 7.
Dumb Starbucks looked exactly like a Starbucks. The sign, the logo, the cups, the outside table with a green umbrella. Everything was identical save the addition of the word "dumb." Even the menu utilized the exact same design and typography, but sold items like "dumb iced lattes" and "dumb Americanos."
Dumb Starbucks never sold a single drink, but instead gave away free coffee and pastries. An FAQ explained that it was meant to be a parody and was therefore legal, but its official purpose remained a mystery as lines wrapped around the building and down the street.
Finally, on Monday afternoon, the truth was revealed. This was yet another prank from comedian Nathan Fielder, host of Comedy Central's Nathan For You.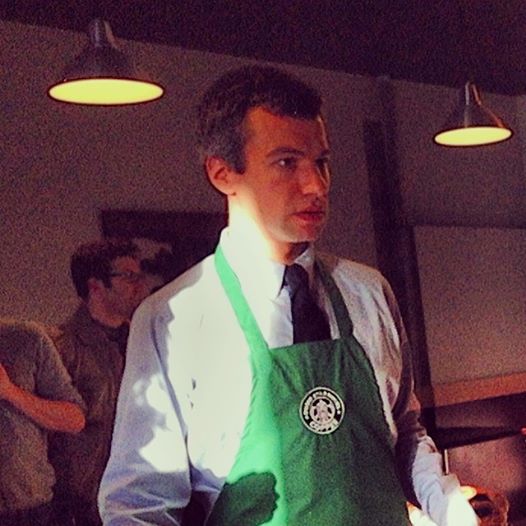 Nathan For You features Fielder as a marketing guru who uses stunts to help small businesses become a success. Not every business was pleased with his help, but it always drew a crazy amount of attention. Previous ploys have included getting a gas station to charge outrageously low prices for gasoline that could only be redeemed if customers returned a rebate slip to the top of a mountain; a frozen yogurt shop that introduced a "poo" flavored ice cream; and a burger joint that offered a $100 reward for anyone who did not believe the restaurant served the best burger in Los Angeles.
While Fielder's stunts typically occur within the Los Angeles area, he did suggest he'd be opening another fake coffeehouse in Brooklyn soon.
After the big reveal, Dumb Starbucks stopped serving free coffee and handing out complementary branded cups, but those still standing in line were allowed inside to Instagram #selfies at #dumbstarbucks.
Nathan For You's 10-episode second season will air this summer on Comedy Central.
You might also like:
The 2014 Sochi Winter Olympics in 5 Memes
Game of Thrones Season 4 preview reveals more lust and mayhem
Jimmy Fallon's last episode of Late Night hits the right note: Sincerity

Watch more comedic bits on College Humor on FilmOn:

Follow TV Mix on Twitter: @tvmixusa
Contact TV Mix: editors@tvmix.com
SOURCE: TVMix.com