Kanye West went undercover in Venice yesterday, after he lost his $60m Los Angeles mansion in his divorce proceedings from his estranged wife, Kim Kardashian. The Grammy Award-winning rapper was photographed sporting an off-white mask and an accompanying all black outfit as he approached the airport in the Italian city. He wore the disguise to the airport after the performance he gave at a wedding on Saturday night, The Sun is reporting.
The pull on mask covered West's entire head, including his ears, and only had openings for his eyes, nose and mouth. The singer-songwriter's entire outfit appeared to be made by designer Balenciaga, as West sported a zip-up leather jacket with the company's logo.
At the wedding the musician performed at on Saturday, he wore another all-black Balenciaga outfit. West's apparel included another mask that covered his entire face. The rapper performed his hit songs 'Runaway' and 'Flashing Light's at the wedding, which was between D'Estree founder Geraldine Guiotte and Tiffany & Co EVP Alexander Arnault.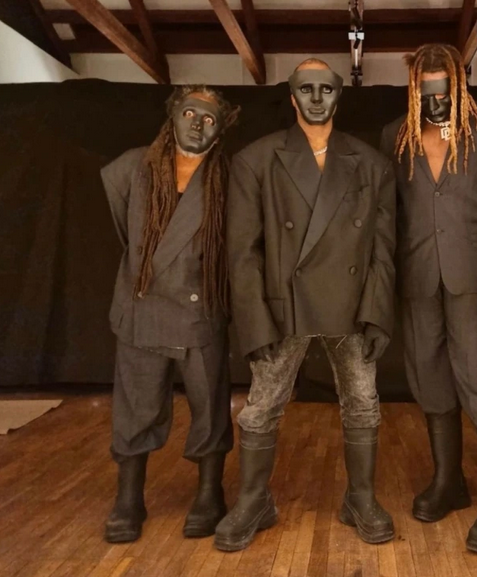 Guests of the star-studded wedding were seen dancing and enjoying the live musical entertainment. However, several attendees have said West had trouble performing with the mask on his face. They spotted the rapper continuously reaching up to keep the mask from moving on his face, as well as re-adjusting the straps.
West and Kardashian have been fans of designer Balenciaga's full face and body coverage during their separation. The couple even surprised their fans by wearing matching full body masked suits at the Met Gala last month, even after the singer confessed he cheated on the television personality-businesswoman.
Kardashian has been staying with the couple's four children at the family's L.A. home since she initiated the separation from her husband in February. The former spouses reportedly negotiated a buyout price for the mansion, which they rebuilt together during their marriage.
The pair purchased the home in 2014 for $20 million, but have invested millions into its renovation process. In April 2018, Kardashian's mother, Kris Jenner, revealed on Twitter that the mansion worth grew to $60million.
The news that Kardashian was awarded the house was a surprise, as most of its construction and design process was led by West. The businessman worked with famed architects, including Axel Vervoordt, over the years to build his dream home, while the spouses expanded their property.
Despite the mansion being awarded to Kardashian, the former couple are said to be in a much better place than when she initially filed the divorce papers. PEOPLE reported that the two have remained friends, and she still enjoys having his support. The one-time spouses also feel that having their relationship be amicable is beneficial for their children.