Ding, ding, ding! The gloves are off! Khloé Kardashian has been on the receiving end for once.
She  launched an attack on Chloe Moretz after the 19-year-old actress tweeted, @ChloeGMoretz: "Everyone in this industry needs to get their heads out of a hole and look around to realize what's ACTUALLY happening in the REAL world". The Daily Mirror says this is in reference to the Kanye West and Kim K's fued with Taylor Swift.
But the busty reality star then outrageously responded with this tweet of the wrong person's private parts (The lady bits weren't blurred out by Khloé):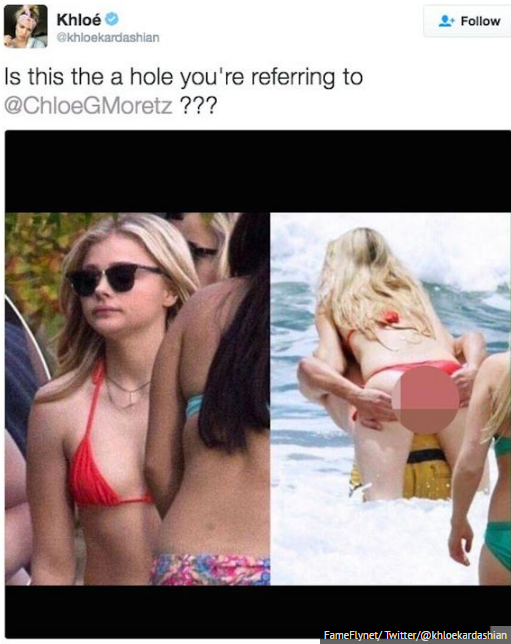 What a dick!
Unlike Khloé, Moretz replied with dignity, showing a photo of the correct bikini bottoms she was wearing (a different f***ing colour) and then said, @ChloeGMoretz: "@khloekardashian fact check: first photo is me filming my movie Neighbors 2, the second photo is some girl who was wrongfully photographed." We're surprised at how reserved she was!
The vile creature that is Khloe Kardashian hasn't tweeted since … if she fancied finding another ass hole she could google any member of her family.
* For more entertainment news log onto FilmOn.com, where there are hundreds of FREE TV channels to choose from, like Hollywood Fast Lane (playing below).
You might also like to read:
Kylie sparks engagement rumours
Swift condemns Kanye's famous track