Kim Karashian's giant bazookas are talked about on a minute by minute basis around the world but now the big breasted goddess is even chiming in herself!
According to the Daily Mirror the busty babe has said she's shocked by the reactions of people when she posts naughty snap of  her massive melons.
Speaking about one of her recent selfies (see below) Kim said: "I truly was baffled when people still cared. They have seen me naked 500 times. The censor bar literally was probably more covered than a bikini. I could not grasp how people were so outraged."
Here's a reminder of the snap, taken from her Instagram page, @kimkardashian: "When you're like I have nothing to wear LOL"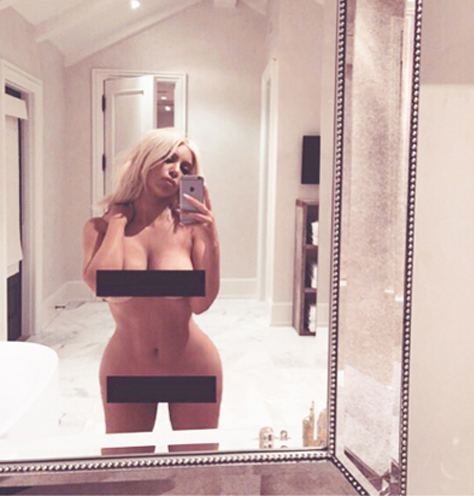 Always a wonderful reminder.
In an interview with Recode Decode Kim also said: "My personality has never been, 'I'm such a feminist and follow me and be naked!' If you are conservative and that's how you are comfortable, more power to you. I respect you. You don't have to look at what I do." So if you don't like her nip nips, f*** off.
She added: "If I like the photo, and I'm into it, I'll post it… I just think it looks good. I'm really not trying to cause a reaction."
We love a bit of girl power at the Ginger Clam HQ! We never thought we'd say these words but … Go Kim!
*Keep up with news and entertainment at FilmOn.com, where there are hundreds of free TV channels to choose from.
You might also like to read:
Creepy TYGA freaks out Kylie Jenner 
Sizzling hot sisters reveal sexy new swimwear range!
Kim Kardashian flashes her boobs and bum in sexy secret project