Just when you thought it was safe to go online without being bombarded with yet another set of weird celebrity photos along comes Lady Gaga.
The 28-year-old singer posted a bizarre snap of herself on her Instagram page – where she posed partially-clothed and bare-headed while holding up a selection of her trademark hairpieces.
Gaga includes the cryptic message: "Your heart is filled with vanity, mine insanity."
Meanwhile there's speculation that there could be fireworks ahead for the outrageous singer after gossip king Perez Hilton reportedly signed up for talks about joining the UK reality show Celebrity Big Brother.
According to the Daily Star, Gaga has told her lawyers to watch the show in case he is tempted top reveal any of her inner-most secrets.
A source told the paper: " Hollywood is the bitchiest place on Earth. Perez knows he's famous for gossip and won't want to let the viewers down."
Here at Ginger Clam on TV Mix we're already hiding behind the sofa in fear!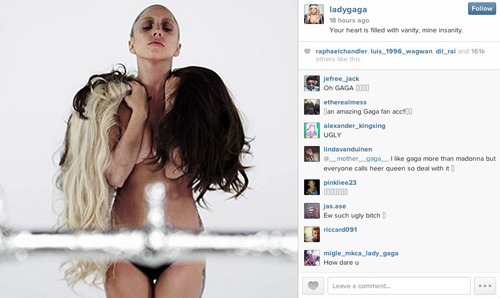 Viewers in the UK can watch Celebrity Big Brother on Channel 5 at FilmOn.com – and if you're in The States we'll keep you up to date here. Meanwhile, catch latest celebrity news via TMZ live (below) at FilmOn.
You might also like to read:
Kim and Kanye's baby heartache