I'm sure it will surprise you to know that Miley Cyrus is naked on the cover of W. Or not. Either way, the image of the pop star lying on a bed covering up her intimate areas with a pillow has leaked on the Internet.
Cyrus will kick off her Bangerz tour next month, beginning in Vancouver. While nudity does little to shock anyone when it comes from Cyrus, her upcoming tour and recent MTV Unplugged performance should keep her busy.
Cyrus is also looking at a burgeoning legal career, offering fellow musician Justin Bieber some advice. On the Tonight Show with Jay Lenon, Cyrus suggested Bieber uses his money to buy a house, add a club to it and party at his house. Saul Goodman couldn't have given the Biebs better advice.
Anyhow, here's that cover: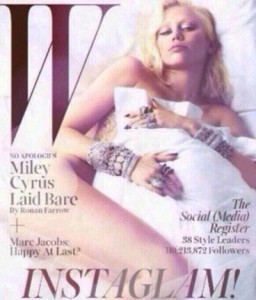 You might also like: 
'Deport Bieber'? White House is forced to respond to petition
Jimmy Fallon reunites Full House dads Bob Saget, John Stamos and Dave Coulier
Miley Cyrus wants to free your nipples
Get your celebrity gossip from The Daily Dish on FilmOn:

Follow TV Mix on Twitter: @tvmixusa
Contact TV Mix: editors@tvmix.com
SOURCE: TVMix.com