I don't like to say "I called it," but… I called it. Well, maybe I do like to say it (since it means I'm right), but look back here, and I had Alexander Gustaffson winning by TKO over Jimi Manuwa and Michael Johnson winning a decision over Melvin Guillard at UFC Fight Night in London.
Many said Gustaffson was in a "no win" situation fighting Manuwa, since he was fighting a low ranked light heavyweight (#11), and a dangerous one, with Manuwa finishing all fourteen of his opponents he has faced.
You might also like: MMA and Transformers: 9 top UFC fighters morphed into favorite cars
That didn't matter to the Swede, as he took Manuwa down in the first round and took some big shots from the Brit in the second round, before kneeing him and finishing by strikes on the ground. In our Twitter poll, we asked fans who should fight Jon Jones (should he beat Glover Texeira) — Gustaffson or Daniel Cormier. And here you'll see the response was overwhelmingly in favour of Gustaffson: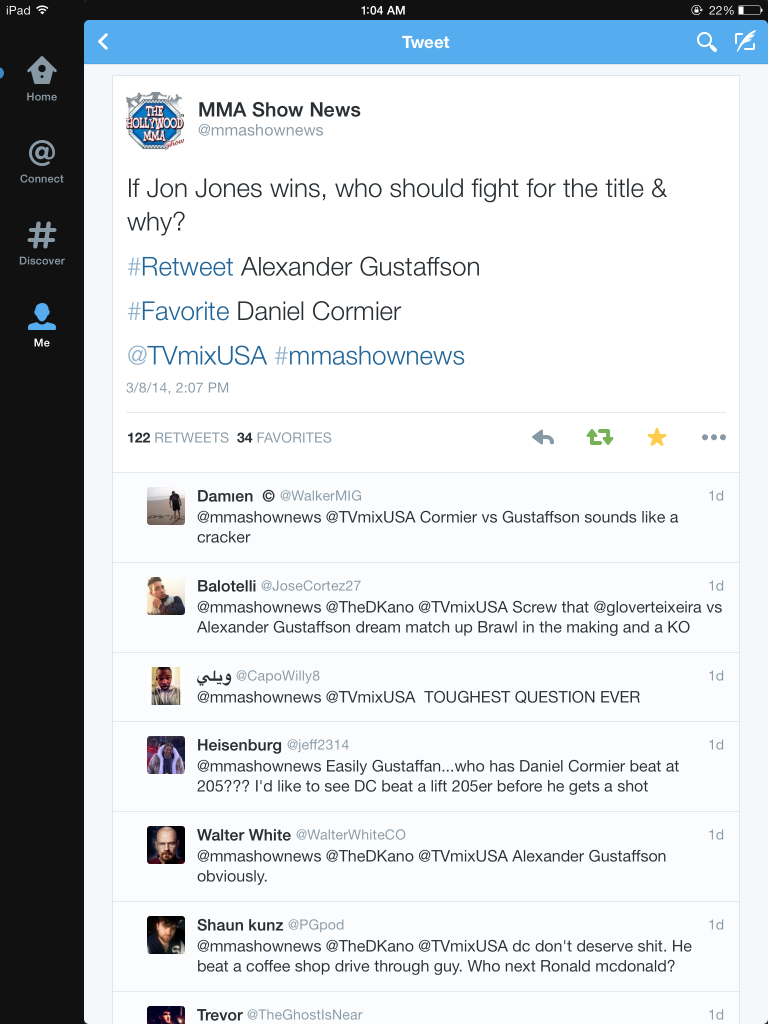 California Bans TRT
Following the Nevada State Athletic Commission's ban on testosterone replacement therapy, California did the same, placing a temporary ban on TRT, while amending their policy.
However, the director for the California State Athletic Commission left a window open for the use of TRT in some instances:
"California is a strong supporter of anti-doping efforts," executive director Andy Foster said. "As part of California's anti-doping efforts, the commission recently began the rule-making process to require meeting World Anti-Doping Agency standards."
You might also like: TRT ban in Nevada: Will it hurt MMA?
"This standard is so high that it is an effective ban except under the most extreme circumstances. Until the rule-making process is complete and the regulations are fully adopted, the commission has a total ban on TRT."
I applaud California for the ban while they modify their standards, but it's not a true "ban" if they allow TRT in some instances. I think if anyone needs to use it, even under "extreme circumstances," that athlete, fighter or boxer should not be competing. Period.
2 For 1
The UFC has announced a UFC Fight Night in Berlin, Germany on May 31, which is the same day they announced a bout between archenemies Chael Sonnen and Wanderlei Silva in Brazil.
A mistake? No, as the time difference will give fans the opportunity to watch both events. This will be a first in the history of the UFC and I'm sure will create buzz among fans as the date nears.
UFC 171
For the second straight time, TVMix will be covering a UFC PPV event live. We will continue with live round-by-round analysis on the main card, so be sure to stay up to date with TVMix as it all begins with our coverage of the weigh-ins on Friday in Dallas!
David Kano is lead writer for MMA Show News and co-host of The Hollywood MMA Show. You can follow him on Twitter @TheDKano.
You might also like:
MMA star Nate Diaz picks a fight with UFC via Twitter
Kelvin Gastelum: The future of the UFC?
Booto Guylain's death prompts MMA safety questions
Watch UFC Next on FilmOn:
For more channels and movies, visit FilmOn.
Follow TV Mix on Twitter: @tvmixusa
Contact TV Mix: editors@tvmix.com
SOURCE: TVMix.com