She is one of the best pound-for-pound female MMA fighters in the world and is currently ranked #2 in the Atomweight (105) division.
Born to an Italian father and German mother in Newport Beach, CA, Jessica Penne (11-2) was raised in Southern California and resides locally in Huntington Beach.
When I learned of her German background, I asked Penne (pronounced pen-nay), "Zie sprechen Deutsche?"
She replied with a simple "nein," meaning "no." (So much for practicing my 10th grade German with her.)
Being athletic and involved in sports growing up, Penne said, "I've always been very competitive. I played soccer, softball in high school and wanted to join the wrestling team, but they wouldn't let me join because I was a girl."
Even though she enjoyed playing team sports, Penne was on the swim team as well and enjoyed that form of competition.  "Where you train as a team but compete individually,"she said.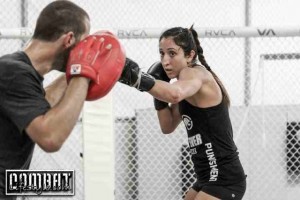 Kano: You could have played tennis?
Penne: Yea, no I wanted something different. I saw an ad on TV for L.A. Boxing and thought I can go over there and maybe someone will know something, and that's when I met my first MMA coach Jeremy Williams when I was around 22 or 23.
Kano: Wow, so you were a really late bloomer?
Penne: No, you could say that, I don't know, but I feel like it happened when it was supposed to start for me.
After she started training in mixed martial arts, Penne said that she fell in love with the sport since it satisfied her competitive nature, and even started scheduling her school and work around training.
"My first professional fight was in November 2006," Penne said, "They flew me and my corner out to Indiana and I was paid $400 to show, $200 to win, and $200 for a finish. So I made a total of $800 for my first fight. It was pretty awesome. I was stoked!"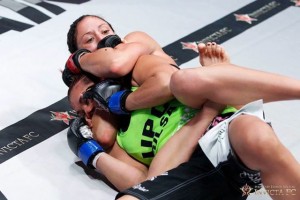 Penne won her first five fights and signed on to fight in Bellator Fighting Championships, where she was the first woman to win in the promotion. Next she signed with Invicta Fighting Championships, and went on to become the first Atomweight champion in Invicta FC history.
Battling through some injuries, Penne makes no excuses when she talked about losing her belt to Michelle Waterson last April, then rebounding to submit Nicdali Rivera-Calanoc in July.
"They said I'm next in line for a shot to get my belt back, but they [Invicta] said it's only fair if she [Waterson] defends the belt first," Penne said, "I'm in my prime and she only fights once a year, so it's frustrating and I can't sit around waiting."
Mainly, she said, "I want to fight the best and compete at the highest level that I possibly can. If that means fighting for the 115lb UFC belt that would be amazing."
Currently a free agent, Penne says she is going to move up to the Strawweight division (115), where she will tryout for season 20 (the first all-female season) of the UFC's hit show The Ultimate Fighter in March.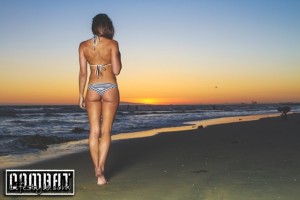 Kano: Is your goal to become the first UFC strawweight champion?
Penne: You know, I just want to fight. I've spent so many years training, and putting in time and having so many fights fall through, and I've had so many ups and downs — and if that means to compete for a belt that would be amazing.
Kano: Are you healthy now?
Penne: I am sore, I'm a little injured, but it's not as big as a problem like it has been in the past.
Passionate about the sport, Penne says her main focus is on her career, with no family, husband, fiancé on the horizon.
Kano: Do you have a boyfriend right now?
Penne: (chuckles) Uh, no, not right now.
Kano: So, if someone was to approach you, what should they say?
Penne: (laughs) I've been told I'm pretty unapproachable.
Kano: Are you one of those girls that only dates fighters?
Penne: No, I mean, I'm open to someone with a good personality; they would just have to be supportive and understanding.
David Kano is lead writer for MMA Show News and co-host of The Hollywood MMA Show. You can follow him on Twitter @TheDKan.
You might also like: 
Super Bowl 2014: 5 reasons why Media Day needs to go away
Marina Shafir: The best amateur MMA fighter in the world?
Manny Pacquiao vs. Mayweather off; Timothy Bradley to face PacMan instead
Watch XTreme Sports on FilmOn:

Follow TV Mix on Twitter: @tvmixusa
Contact TV Mix: editors@tvmix.com
SOURCE: TVMix.com