Just when you thought it was safe to go onto the internet, that mad little minx Miley Cyrus is at it again. This time posing in PAPER magazine nude with her pet pig.
Miley might not break the internet like Kim Kardashian did but she should make a decent sized dent in it.
This isn't the first time Ginger Clam has reported on her famous nip nips, not by a long way – but this time she doesn't even have the decency to cover up her little jelly beans at all.
As well as dropping the mother of all bombs that she became a vegan last year, the 22 year singer also lets slip she came close to wedding a secret girlfriend as a teen! One revelation at a time, please Miley.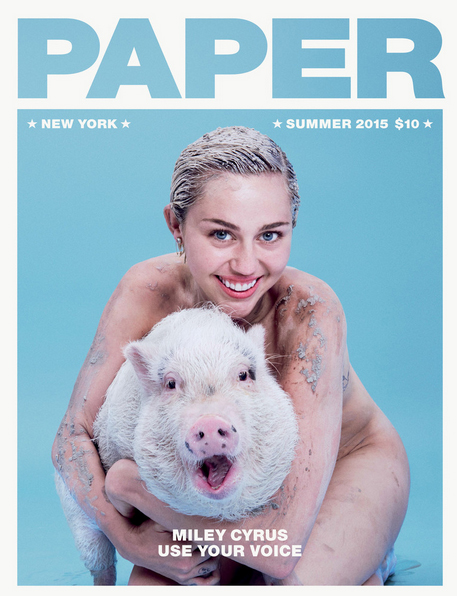 In her interview with the PAPER she said: "I am literally open to every single thing…I'm down with any adult…anyone over the age of 18 who is down to love me." Calm down Cyrus, we can smell the desperation from here.
We've started taking bets at the clam on who/what she'll be pictured naked with next. Whatever she does, I'm sure we won't be waiting too long to find out.
* Meanwhile if you need your daily fix of great entertainment then tune into FilmOn TV Live – via FilmOn.com – where there are hundreds of great live web TV channels to choose from.
And if you want read more about Miley's click on the links below:
Miley and Bieber's naked bath pics
Miley stuns fans with explicit nip pics