The U.S. military has begun deploying and testing Terminator robot dogs on patrol duty at the hostile environment at the American-Mexican border. The new technology, which is named Man's Best Friend, is meant to reduce the exposure that the Customs and Border Protection agents and staff have to life-threatening situations, particularly in the American Southwest.
The U.S. Department of Homeland Security (DHS) has been working with Customs and Border Protection agents on running the tests with the robotic patrol dogs near the border. The tests used the dogs as sentries for surveillance and patrol under manual operation in a scenario that simulated being met by potentially hostile individuals.
A blog post from the federal executive department's Science and Technology Directorate detailed that the trials were successful in the field. The blog post also called the robot dogs, which were designed by Ghost Robotics, "a new best friend for CBP personnel in the field."
Gavin Kenneally, Ghost Robotics' chief product officer, also commented on the new 100lb four-legged robots, which were designed to walk in all types of natural terrain, including sand, rocks and hills, and also on human-built environments like stairs, in the field. He stated: "It has the ability to feel through its motors and can estimate friction forces and automatically correct for uneven or slippery ground."
The robots, which can operate autonomously or manually, are also equipped with guns. The weapons have a 30x optical zoom, thermal camera for targeting in the dark and an effective range of 1,200 meters.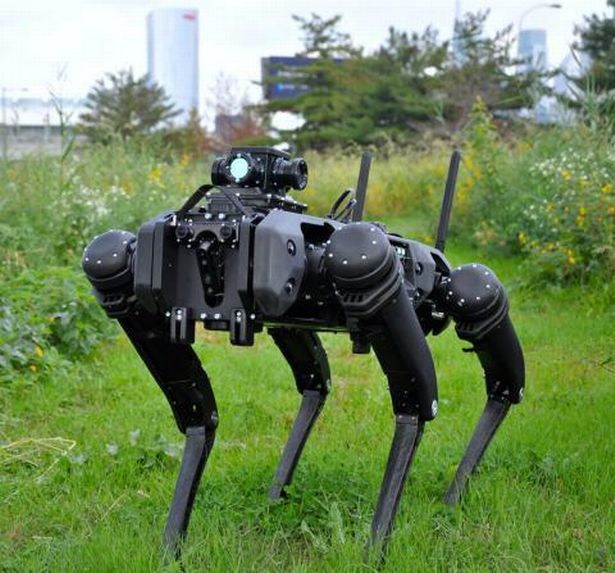 The robots were publicly shown off for the first time at the Association of the United States Army's 2021 annual conference in mid-October. The conference, which was held in Washington, D.C., was a landpower exposition and professional development forum.
The 325th Security Forces Squadron at Tyndall Air Force Base in Florida became the first unit in the Department of Defense to use quadrupedal robots in regular operations. It uses them to patrol the base's perimeter, during which it navigates swampy areas that aren't desirable for humans and vehicles.
Although reconnaissance is one of the leading uses for robot dogs, manufacturers are also slowly experimenting with them in other areas. Besides providing remote video and mapping, the machines can also be used as mobile cell towers, to defuse bombs or to detect chemical, biological, radiological and nuclear matter (otherwise known as CBRN).
Despite their potential to help defend the American border against hostile individuals, the public has compared Ghost Robotics' androids to the robots used on Netflix's hit dystopian series, 'Black Mirror.' The robot dogs were specifically shown on the show's fifth episode of Season 4, 'Metalhead.'
The episode, hich debuted on December 29, 2017, follows the uses of such machines by the police. 'Metalhead,' which was directed by David Slade and written by the show's creator, Charlie Brooker, portrays a robot dog hunting humans through a post-apocalypse setting over a 40-minute chase sequence that's often compared to 'The Terminator.'