The big news rumor is that the winner of the Posh Spice 'Golden Balls' award is looking to acquire the most recent FIFA Golden Ball recipient for his embryonic team to be based in South Florida. According to an unnamed 'MLS source' in London's The Sun, David Beckham is targeting fellow underwear model and Portuguese international Cristiano Ronaldo to join the club when it begins its inaugural season in 2017, despite CR7 having signed a contract extension at Real Madrid that will stretch until the following year.
This announcement has already prompted harrumphing from Eurosport.com (the website for the Eurosport consortium). Unable resist a dig at Major League Soccer and Becks, the site's Paper Round stated that "Ronaldo would not even consider joining the MLS until his career is well and truly done," and that this is is just "classic Beckham-style publicity." We may have to wait a few years to see if "tighty-whiteys" promote the strongest bond of all.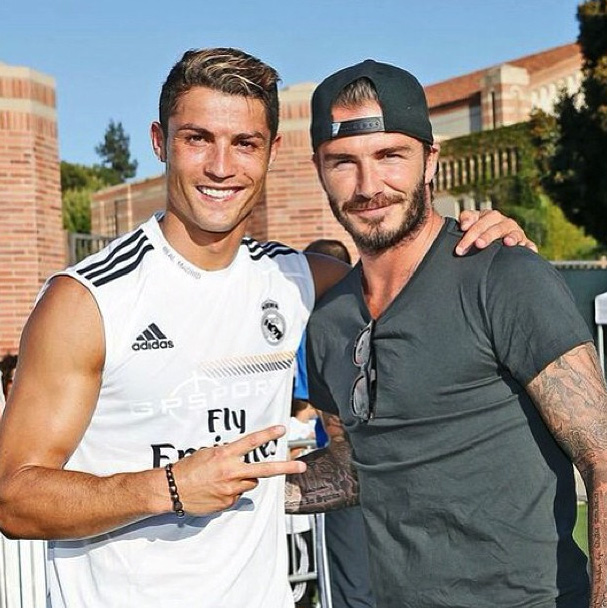 You might also like: David Beckham's Miami soccer team: 5 names for the new franchise
In other World Cup related news, Brazil's privately owned Arena de Baixada in Curitiba, is about to be pulled from the schedule of the tournament after it became overwhelmed with construction/renovation issues. An official announcement will be made Tuesday, Feb 18.
Ironically, before the 2014 World Cup came along, Baixada was considered one of the country's most modern stadiums. However, it needed to be expanded to meet FIFA's size requirements, and failed to work within the smallest of the stadium budgets for the Cup. The capital of the southern Brazilian province of Paraná, Curitiba has another stadium, the Vila Capanema, that hosted games in the 1950 FIFA World Cup.
You might also like: World Cup 2014: Twitter sex scandal problems and a showdown in London
In England, FA Cup matches dominated the weekend, and Uruguayan international Luis Suarez was again at the center of controversy along with selected 2014 World Cup referee Howard Webb, as after Suarez won a rather dubious penalty he later failed to convince Webb of a more obvious one in Liverpool's 2-1 defeat at London's Arsenal, who benefitted on their side from clutch performances from German internationals Mesut Özil, Lukas Podolski and Per Mertesacker, as well as England World Cup hopeful Alex Oxlade-Chamberlain.
Liverpool's cross-town rivals Everton advanced to the next round of the FA Cup with a victory over Swansea City that featured goals from the Toffee debutant Ivory Coast international Lacina Traore and England left back Leighton Baines. To the far north, Sunderland also advanced despite NOT featuring US striker Jozy Altidore nor England hopeful Adam Johnson.
You might also like: World Cup 2014: 7 US Men's prospects to watch
Watch FilmOn Football, free:

Follow TV Mix on Twitter: @tvmixusa
Contact TV Mix: editors@tvmix.com