In a tragic accident, 'Rust' actor-producer Alec Baldwin discharged a prop firearm that fatally wounded cinematographer Halyna Hutchins and injured writer-director Joel Souza. The incident occurred yesterday afternoon on the Santa Fe set of the Western film.
The Academy Award-nominated performer publicly spoke about the tragic accident for the first time today, saying, "There are no words to convey my shock and sadness regarding the tragic accident that took the life of Halyna Hutchins, a wife, mother and deeply admired colleague of ours. I'm fully cooperating with the police investigation to address how this tragedy occurred."
Baldwin added, "I am in touch with with her husband, offering my support to him and his family. My heart is broken for her husband, their son, and all who knew and loved Halyna."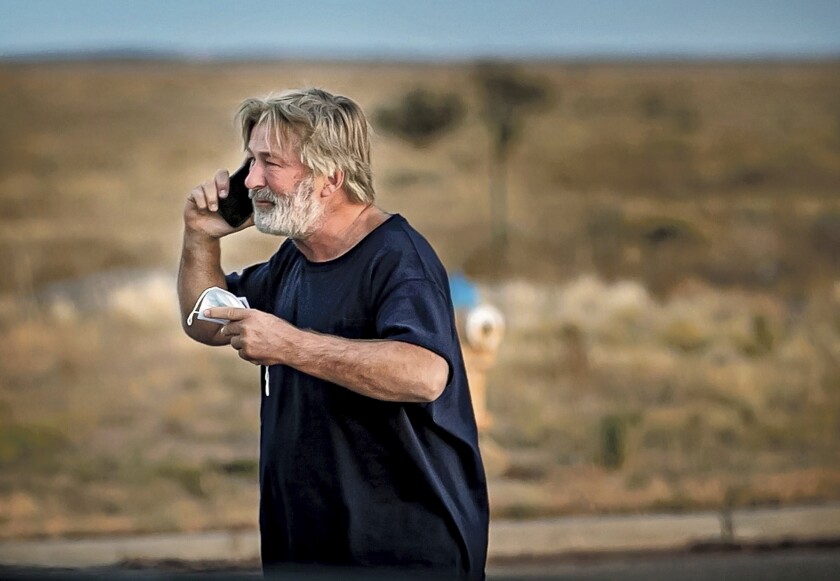 After the incident, Hutchins was transported to the University of New Mexico Hospital via helicopter, where she was pronounced dead by medical personnel. Souza was transported to Christus St. Vincent's Regional Medical Center by ambulance, where he's being treated for his injuries. Details on his condition have not yet been released.
The Santa Fe County Sheriff's Office has released a statement about the accident, which reads: "According to investigators it appears that the scene being filmed involved the use of a prop firearm when it was discharged. Detectives are investigating how and what type of projectile was discharged."
The Sheriff's Office is working with Santa Fe's district attorney and New Mexico Health and Safety Bureau (OHSB) on the investigation into the incident. While the case is currently open and active, no charges have been filed against Baldwin.
Before yesterday's accidents, there were two misfires with the prop gun on Saturday and one last week. Some crew members have stated that there was an overall serious lack of safety precautions taken on this set.
Those lack of precautions were evident when Baldwin was reportedly rehearsing a scene yesterday afternoon outside the church of the drama's Bonzana Creek Ranch set near Santa Fe. The scene involved a gun fight that began in the church, before the actor's character was supposed to back out of the building.
In addition to Baldwin, 'Rust' stars Travis Fimmel and Jensen Ackles. The movie follows a 13-year-old boy who goes on the run with his long estranged grandfather, who's played by Baldwin, after he's sentenced to hang for the accidental killing of a local rancher.
Production has been shut down on the Western after the shooting, which occurred on the 12th day of the scheduled 21-day production. 'Rust's current shutdown came about six hours after a half-dozen camera crew workers walked off the set to protest working conditions.
The camera operators and their assistants were frustrated by the conditions they experienced while making the low-budget film; they had complaints about the production's long hours and difficulty receiving their paychecks.
Crew members also said before shooting began on October 6 that they had been promised that the production would pay for their hotel rooms in Santa Fe. But after filming began, they were told they instead would be required to travel the 50 miles from Albuquerque to the Bonanza Creek Ranch each day, rather than stay overnight in nearby Santa Fe.
As a result, Hutchins had advocated for safer conditions for her team. Eventually, the camera crew, who are members of the International Alliance of Theatrical Stage Employees union, decided to show up for work as expected at 6:30 a.m. yesterday. But instead of working, they spent an hour gathering their gear and personal belongings  to leave, and they were replaced by several nonunion crew members.
This isn't the first time that someone was accidentally killed by what were supposed to be prop guns with blanks on a movie set. While shooting the cult classic gothic superhero film, 'The Crow' in 1993, actor Brandon Lee, the son of Bruce Lee, was killed when he was struck by a bullet from a gun that was supposed to have just blanks. However, even blanks can be deadly if they're fired at very close range, particularly less than 20 feet.
The 28-year-old actor was filming a scene in which his character, Eric Draven — a musician who returns from the dead to avenge his lover's murder — is shot by a street gang member. A prop gun that was used for the scene contained blanks that had been improperly manufactured from live ammunition.
During test firing, a bullet tip became lodged in the handgun barrel. That tip was later fired at Brandon, who wasn't wearing a bulletproof vest, from less than twenty feet away, and struck him in the abdomen.
The actor was rushed to the hospital, where he died following six hours of emergency surgery. No criminal charges were ultimately brought against the production. 'The Crow' was later completed with Brandon's stunt double serving as a stand-in for his remaining scenes. But his tragic on-set death has remained a Hollywood cautionary tale about gun safety for almost three decades.
Brandon's sister, Shannon Lee, has also issued a statement about Hutchins' death and Souza's injuries through her brother's official Twitter account. "Our hearts go out the family of Halyna Hutchins and to Joel Souza and all involved in the incident of on 'Rust,'" she wrote. "No one should ever be killed by a gun on a film set. Period."