Betty White died peacefully this morning at the age of 99. The four-time Primetime Emmy Award-winning actress' death comes just weeks before what would have been her milestone 100th birthday on January 17, 2022.
White died at her home in the Brentwood neighborhood of Los Angeles of natural causes – she didn't have any sudden illness, nor was she battling any particular ailment. Emergency responders, including police, showed up at her home this morning as a standard procedure.
The beloved television entertainer and animal rights activist's agent, Jeff Witjas confirmed the news of her death. He released a statement about his client's death, saying: "Even though Betty was about to be 100, I thought she would live forever. I will miss her terribly and so will the animal world that she loved so much. I don't think Betty ever feared passing because she always wanted to be with her most beloved husband Allen Ludden. She believed she would be with him again."
White's star on the Hollywood Walk of Fame has been drawing a crowd all day of her fans who are mourning her death. People are leaving such items as candles, flowers and stuffed animals to show their support and appreciation for the performer. A makeshift memorial is also forming outside her house.
A pioneer in media, White started her career in radio in the 1940s. She appeared on such programs as 'Blondie,' 'The Great Gildersleeve' and 'This is Your FBI' before she eventually got her own radio program, and later transitioned into acting on screen.
White had the longest running career for any woman in television prior to her death. She stared on multiple shows throughout her career. She was most famously known for her lead role as Rose Nylund on the hit sitcom, 'The Golden Girls,' which ran from 1985 to 1992 on NBC. The entertainer is also remembered for playing Sue Ann Nivens on the hit CBS sitcom, 'The Mary Tyler Moore Show,' from 1973 to 1977. She also portrayed Elka Ostrovsky on the TV Land sitcom, 'Hot in Cleveland,' from 2010-2015.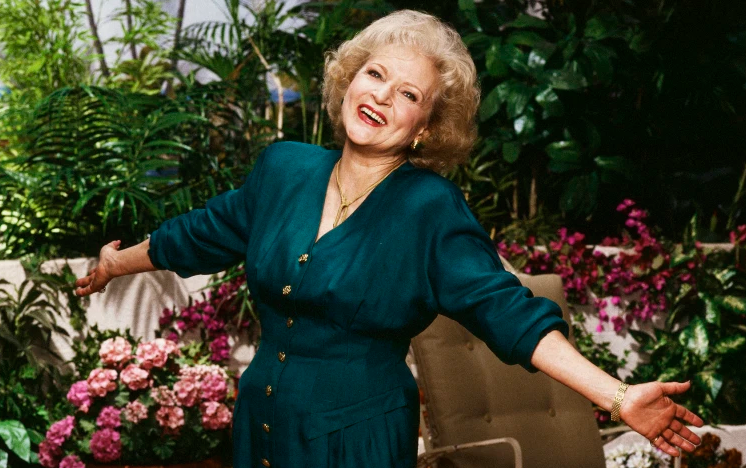 Before starting her acting and modeling career, the SAG Award-winning actress served in the American Women's Voluntary Services in the U.S. during World War II. Not only did she drive supplies to a temporary camp up to the Hollywood Hills, but she also shared her talents as an entertainer dancing with military enlistees before their deployment.
When she pursued her acting career after the war was over, White used her growing power and influence to make Hollywood more inclusive. She notably hired Arthur Duncan, an African American entertainer, as a regular performer on her NBC variety show 'The Betty White Show,' in 1954, but the decision caused controversy.
When viewers demanded that Duncan be removed from the series, White refused to give in, and said: "I'm sorry. Live with it." Due in part to her denial to replace Duncan, the show was canceled by the end of that year.
White also found success in her personal life when she met television game show host Allen Ludden in 1961 when she was a guest on his series, 'Password.' While she later turned down his first two marriage proposals, due to being a two-time divorcee, they eventually married in 1963. They stayed married until his death from stomach cancer in 1981, and she never remarried.
Later in her career, the celebrated entertainer went on to garner recognition for playing Ryan Reynolds' grandmother in the hit 2009 rom-com film, 'The Proposal.' She later won a Grammy Award in 2011 for Best Spoken Word Recording for the audio version of the bestselling book, 'If You Ask Me (And of Course You Won't).'