You may have noticed some eerily quiet streets lately. It's not that a robot uprising has wiped out the asshole neighbors — it's BETTER. Everyone and their mother are in Las Vegas for CES 2014, the world's largest, most badass consumer electronics show. Just once a year, more than 100,000 tech geeks unbutton their pants and head to Sin City to catch a glimpse of the newest gadgets promising to make our lives easier or, if nothing else, bring us one step closer to I, Robot becoming a reality.
Nerds have been anticipating this year's big announcements since the last one in January 2013. Here are the top 3 big reveals at CES 2014, guaranteed to perform double duty and enhance your tech life while wiping out your sex life: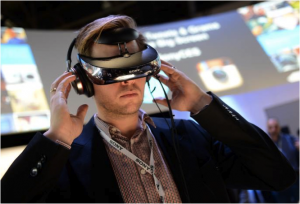 Sony's Head-Mounted Display: For a mere $999, you can look like RoboCop AND ward off sex forever. This gadget goes on your face, but works like a chastity belt. All you have to do is kick back, put on the headset and noise-cancelling headphones, and whatever chances you had of getting laid will disappear right before your eyes. No more pretending to listen to your girlfriend while you play video games, no more mixed messages. She'll hear you loud and clear: You're not interested in her goodies.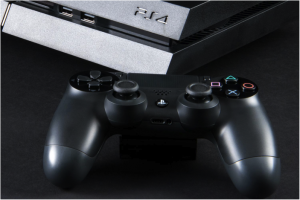 PlayStation Now: If Sony can pull this off, any chance of you ever moving out of mom's basement will be shot to hell. Cloud gaming has been attempted by some, but none have succeeded. Sony is the first big name to give this a go, which is why it might actually take gaming into the future, starting with the PlayStation 3 games.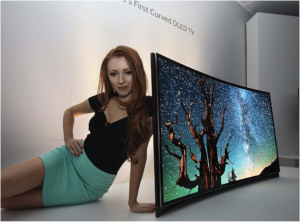 Samsung's Bendable Ultra HD TV: Most people find a bendable TV excessive and unnecessary, but most people aren't you with an ass fused to the sofa from their childhood (you know, the one that got demoted to the basement after so much wear and tear and naturally ended up in your basement bachelor pad). Samsung promises the "3D effect without wearing 3D glasses" with these slick-looking TVs. Imagine how immersive playing video games will be when the screen adjusts to enhance image depth. And porn will almost be like having a real naked woman in your room. Almost.
Get your tech news on Engadget on FilmOn:

You might also like:
Who is Sasheer Zamata and can she save Saturday Night Live?
North Carolina politician resigns in Klingon
More Hobbit, X-men and Comic-Con: Miss Lydia's Guide to 2014… for nerds
Follow TV Mix on Twitter: @tvmixusa
Contact TV Mix: editors@tvmix.com
SOURCE: TVMix.com