The latest Arnold Schwarzenegger vehicle, Sabotage, has opened wide to mostly negative reviews and terrible box office. Despite making feints in new, murder-mysterious directions, with Training Day (2001) and The Fast and Furious (2001) screenwriter David Ayer at the helm, in the end Sabotage is kind of a slack Arnie picture, with the unbelievably shocking violence (even for this day and age) being by far the most over-the-top element.
The only thing I can't yet quite get clear is why it is called Sabotage. Apparently it was originally called Ten due to being loosely based on the Agatha Christie novel Ten Little Indians, then Breacher for reasons I'm not sure I want to ruminate upon. My best guess on the final release title is a direct reference to the Beastie Boys' 1994 Ill Communication single (lyric: "you're scheming on a thing, that's sabotage") and long-form video directed by Spike Jonze, which appears to deal with fringe elements of a similar extreme, near-nonsensical crime scenario, albeit with Jonze's over-the-top but already obviously clever skater humor and retro fashion sense in very welcome evidence.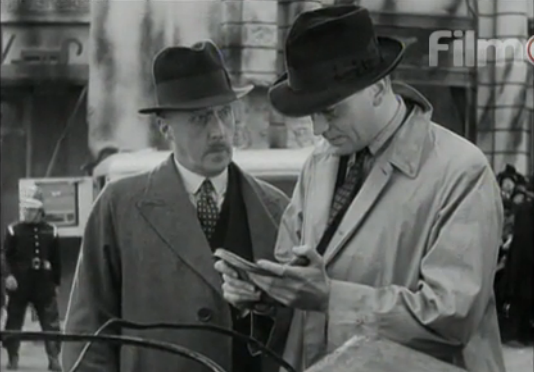 Of course, for a film that follows the proper definition of sabotage, and not just how it undermines the rest of your movie date, on FilmOn's free VOD service we have the master Alfred Hitchcock's 1936 Sabotage aka The Woman Alone. In fact, the film begins with a shot of the word's dictionary definition, followed by a long, moodily expository scene that drives home the point further. Someone is messing with stuff in London.
Also loosely based on a novel — in this case Joseph Conrad's 1907 The Secret Agent — due to the still uncertain gathering winds of WWII the film is careful not to divulge a specific nationality or ideology for its provocateurs. The cinema owner Mr. Verloc, played by Oskar Homolka (I Remember Mama, The Seven Year Itch, The Tamarind Seed), conveys reticent menace while channeling a premonition of Schwarzenegger and Leonid Brezhnev combined, while his wife, played by Sylvia Sydney (Hammett, Beetlejuice), and his undercover Scotland Yard nemesis played by John Loder (Now, Voyager) also effectively convey ambivalence and dread.
This Sabotage and the new Sabotage do share a trait for shocking violence for their time. However, Hitchcock, already well on his roll, goes meta with a number of visual tricks, many focused in and around the workings of the West End movie theatre. Quentin Tarantino would actually use a pertinent clip from this film in his lauded 2009 Inglourious Basterds. So if you like Tarantino, the Beasties and Arnie, you'll find plenty to like and more in Alfred's Sabotage.
Watch classic films on the Hollywoodland Channel on FilmOn:
For more streaming TV and movies, visit FilmOn.
Follow TV Mix on Twitter: @tvmixusa
Contact TV Mix: editors@tvmix.com
Source: TVMix.com