After all the rough and tumble stunts and shenanigans that have gone on at FilmOn Studios for live TV, it's a skit that involved fake blood and the caustic comments of the world's original super model Janice Dickinson that may wind up in court.
Greek billionaire
Alki David
–who has stared down the world's media demo-gods like
Rupert Murdoch
,
Les Moonves
,
Barry Diller
, and
Sumner Redstone
–has called
Josh Skinner
's
filing
an obvious bid to try to get an easy settlement. He vows to spend much more money than any settlement would amount to in order to make sure Skinner doesn't see one penny.
David's FilmOn Studios is the home of BattleCam,
a smorgasbord of depravity
, desperate D-list stars, fearless fools and tests of human endurance, will power, and indeed, self-respect. To enter into some of the stunts David has conceived of requires a signed legal release and an avowed sense of shamelessness. One man was asked to staple his scrotum to a board. One man set himself on fire, and proceeded to use the stardom he achieved on the social television network to find a wife, get married by David himself, and then get David's
face tattooed on his body
. Another attempted to live in a
plywood box
for thirty days being subject to cameras, and orders to act out disgusting stunts, 24/7.
Watch the complete video of the incident here:
The current case involves an employee who wasn't happy with the amount he was being paid and, David says, concocted a story about getting hurt at the studio years after the day he was fired. The stunt–which involved Skinner wiping fake blood on himself and banging on the windows of the studio while David taped a segment, and laughed at him, was a lackluster affair by FilmOn standards.
Skinner's suit claims he was injured and traumatized when one of the guests on the show restrained him (because he had seen him with a knife). The video record of the day shows that Skinner proceeded to sit on the couch on camera with David, shake hands with the man whom he now claims injured him, make self-deprecating jokes in which he calls himself, "a hobbit…in Prada," and, speaking to cameras, says, "Seriously, Alki is a great guy and a great guy to work for."
Dickinson, the "original supermodel," who is by all accounts the ultimate Alpha Bitch, has said incredibly degrading and mean things on her shows on FilmOn for years—that a throwaway remark about Skinner's stature should cause emotional stress boggles the mind. (Her joke about Skinner was that he needs growth hormones. She delivered this line shortly after simulating fellatio on David.)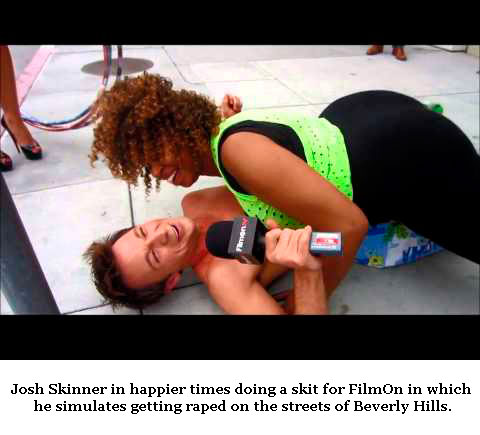 BattleCam, David's social television juggernaut which airs via FilmOn and on David's broadcast channels in the US and the UK, is a kind of Lord of the Flies community where dares and insults are king. It's system of rewards and penalties and community voting has created truly Darwinian reality television. David has called it, "The most loving accepting place of all–where everyone is equal and you either take the heat and succeed or you fuck off."
David, who counts among his close confidants the mob insider Johnny Fratto, is showing the same take no prisoners, no compromise attitude toward the Skinner suit that he has demonstrated in courts across America defending the rights of consumers to unbundled television on their favorite electronic devises, and in defending his patent to the most advanced form of holographic projections–the technology that created the famous Tupac Shakur hologram.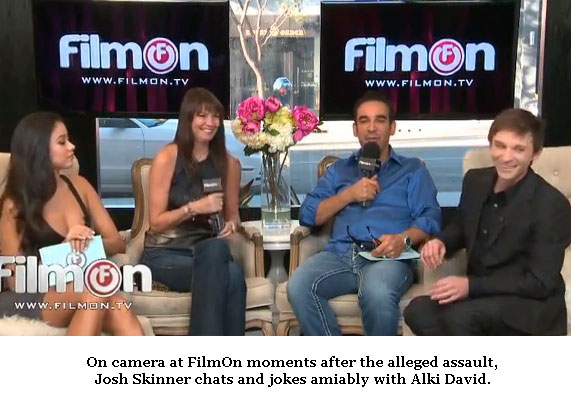 The other high profile legal case involves the widely reported theft by Fox of the same technology in order to make a
hologram Homer Simpson
appear at Comic-Con in July.  A Fox spokesman has given some blithe statements, not realizing  how damning the evidence against Fox appears. As David says, "They paid for the technology to create an X-Men hologram–then they turned around and did their own with the same technology to save a little money during the $1 billion dollar bonanza that is the Simpsons anniversary. It's open and shut."
As Fratto says, "Alki's a wonderful warm, fun loving guy–until you cross him. Then–good fucking luck."
Follow TV Mix on Twiiter at @tvmixusa
TV Mix is owned by FilmOn Networks.