Just an ordinary day at the FilmOn Studios with BattleCam user Justin cooking live, as per usual. Considering that one of the last times we saw Justin, he was rolling around in a diaper with Cruisin in the Cavahole, it seemed like today was going a lot better.
Until user DERYLWITHTHECURL nonchallantly enters and flips his table in two uncermonious swipes. Why? We're really not sure, but rumor has it BattleCam founder Alki David suggested this to Deryl. You know, just to keep everyone on their toes. You can watch it here.
FilmOn staff reportedly had to make an IKEA run today.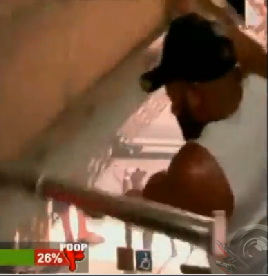 BattleCam's insanity continues 24 hours a day, 7 days a week on BattleCam.com. Cam up; get weird.
You Might Also Like:
Cavahole Day 3 Report: Fights, underwear and a super model
Cavahole Day 2: Cruisin is King of the Hole
Cavahole returns: BattleCam star Cavacho goes back in the box