It looks as if there will be no let up in the ferocity of the Kardashian family's drive for self-publicity in 2015.
With the New Year just a few days underway, Kim's half-sisters Kylie and Kendall Jenner have been posting rival versions of selfie photos on Instagram.
Kylie, 17, is the latest member of the family to join the circus when she uploaded a snap of herself in a cropped top and jeans, wearing heavy make-up (above).
The image comes just a few days after her older sibling Kendall, 19, kicked off the battle of the selfies by posting a shot of herself in a similar pose in a bikini top (below).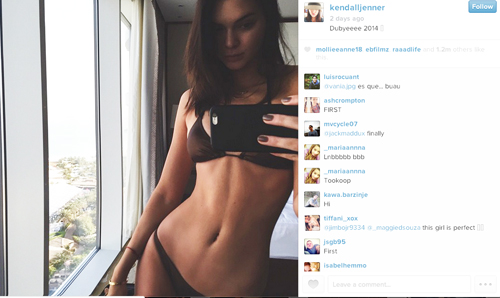 Meanwhile here at Ginger Clam HQ at TV Mix we're still p***ing ourselves with laughter at mom Kris's attempts to join the limelight over the holiday season by posing in stockings alongside Kendall for a video for Love magazine's online advent calendar.
Check out Kris's f***ing weird looking wiggle in reindeer antlers. Welcome to America: land of free-publicity!
You might also want to check out the following stories:
Kanye and Kim Kardashian splash out on house next door
Kardashian fan spends $150k to look like Kim
Kim Kardashian's New Year tweets
Meanwhile if you love to keep up with entertainment news then head to FilmOn.com, where there are hundreds of free live web TV channels to choose from along with top vodcasts like TMZ Live (below)