Meet Jordan James Parke from Manchester – who's sparked a debate on social media by revealing he's splashed out  $150,000 on cosmetic procedures to look like Kim Kardashian.
Jordan, 22, has undergone Botox treatment along with lip and cheek fillers, while also having eyebrow tattoos.
He admits that his appearance sometimes causes an adverse reaction, but he insists: "I laugh when people insult me by telling me I look plastic or fake. Do they think I'm going for the natural look? If I was, I'd ask for my money back."
His story has sparked a debate on the web about the ethics of making surgical procedures available that can change someone's appearance so drastically – just check out the volume of discussion his photos have caused on UK newspaper websites.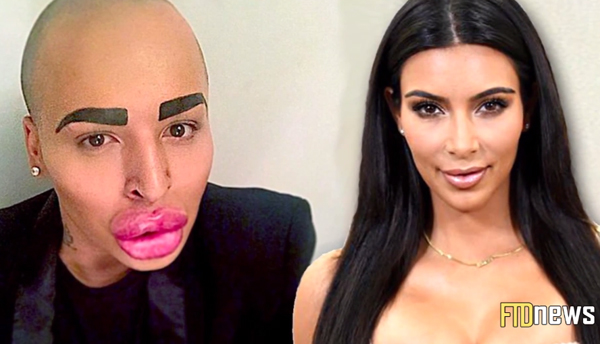 Jordan says he fell in love with 33-year-old Kim after watching an episode of Keeping Up With The Kardashians.
"I love everything about Kim. She's the most gorgeous woman ever. Her skin is perfect, her hair everything about her," he says.
Here are Ginger Clam HQ on TV Mix we'd like to get as wound up by the story as Daily Mail readers, but hey what the hell it's Christmas – so let's give the dude a break!
Meanwhile, if you want to keep up with celebrity news check out TMZ Live (below) at FilmOn.com – where there are hundreds of great free live web TV channels to choose from.
 You might also like to read:  Liberace back with Hologram USA resurrection
You might also like to read: Madonna blasted in Twitter storm