Well this story has certainly taken an unexpected twist.
Are our eyes working? Let's track back to last week when Kanye West's former lover Amber Rose posted a vulgar yet hilarious tweet about Kanye's butt hole, in case you didn't see it here it is again:
"Awww @kanyewest are u mad I'm not around to play in ur asshole anymore? #FingersInTheBootyAssBitch" This never gets old!
Anyway, the last thing we thought we'd see was a united front between Amber and Kanye's wife Kim Kardashian.
In case you missed it the two busty babes sent Instagram into meltdown yesterday after they posted the same selfie with one another, here's the snap: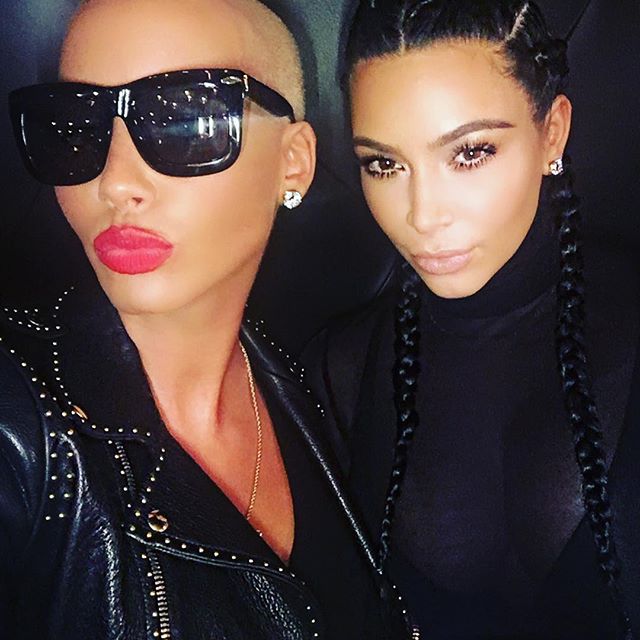 Amber captioned the photo "Swingers"… one can dream, whilst Kim went for a more reserved title "tea anymore" f*** the tea lets get swinging!
We're not gonna lie, here at the Ginger Clam HQ we were waiting for yet another explosion following Kanye's rant to Wiz Khalifa but it looks like it could all be over, thanks girls!!
Having said that, we can never be too sure what Kanye's thinking, he's one crazy dude!
*Keep up with entertainment news at FilmOn.com – where there are hundreds of free TV channels, including Hollywood Fast Lane (playing below).
You might also like to read:
TV Mix: Kanye West gets his panties in a twist and goes to town on Wiz Khalifa
TV Mix: The gloves are off! Kanye West vs Amber Rose – Part 2
Kylie and Kendall Jenner in Battle of the Bikinis!
Khloe's humiliating threesome shock