Kim Kardashian's naked selfie that sent the internet into meltdown a few days ago has caused a right shit storm with Hollywood A-Listers.
Golden oldie Bette Milder and Kick-Ass babe Chloe Moretz slammed Kim after she revealed her bootylicious snap on social media.
Milder came up with one of the best tweets of 2016 so far, she said: "Kim Kardashian tweeted a nude selfie today. If Kim wants us to see a part of her we've never seen, she's gonna have to swallow the camera." And we all know what that's in reference to!
The most liberated chick of them all, Miley Cyrus, has unsurprisingly come to Kim's rescue! The troubled star posted a picture of Kim's butt emoji (below) on her Instagram page and said: "Dear women, you ALL are acting tacky AF!… Can we all put the c***iness aside for one f***ing day and love / celebrate one another!" Charming as always.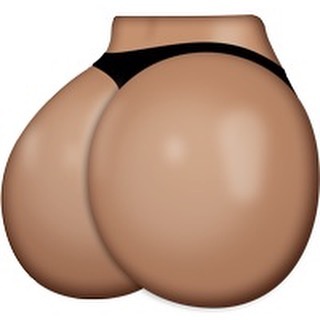 For the first time ever The Ginger Clam is on Miley's side! We really don't see what the fuss is about, we love a bit of ass and nip nips!
We would even love it if Oprah Winfrey showed her beaver but we know there's no chance of that happening.
* Keep up with entertainment news at FilmOn.com, where there are hundreds of free TV channels, including Hollywood Fast Lane. 
You might also like to read:
Kim Kardashian sends Twitter into frenzy with nude selfie