Ginger Clam's fave little sexy minx is back on booby attack! The star has unveiled a series of sensational new images that equate to celluloid viagra.
Daddy Billy Ray Cyrus will have an achy breaky heart this morning as the world is hit with yet more scandalous images of his daughter.
Naughty Miley's pics are from the second installment of her exclusive 'Diary Of A Dirty Hippie' photo series for V Magazine.
The new snaps were taken at 'Art Basel' in Miami. They include a series of semi-nude and provocative shots as Miley smokes cigarettes and counts wads of dollar bills. She doesn't look remotely like a degraded hooker.
The pictures include poses in a 'barely there' leotard. The singer had already worn that outfit in public with beau Patrick 'don't tell my daddy' Schwarzenegger. We are betting that Paddy has some nice extra shots of posing Miley on his iPhone.
The booby star included a deep and meaningful message with her new pictures:
'They say a picture can say a thousand words… Well, mine say so many that there's really nothing to say at all. I'll let them speak a lot for themselves.'
The pics say to Ginger Clam that your cold nips should be covered up; pop them in Schwarzenegger's mouth and spare us all the sight.
* For great live TV free on the web go to FilmOn.com, where there are hundreds of top channels to choose from.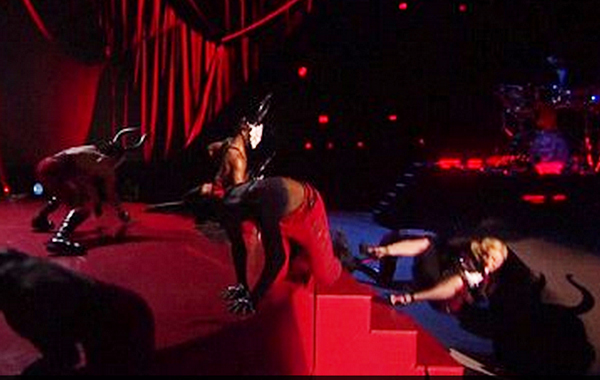 You might also like to read the following:
Mail Online: Madonna, 56, falls down the stairs
The Guardian: The Brits Reviewed
 Madonna says web leak is artistic terrorism