The Queen of Pop Madonna is recovering tonight after going ass over tit at The Brit Awards in London.
The Material Girl was a few moments into performing a number on stage when she suddenly went flying backwards down a staircase while surrounded by backing dancers.
The show was interrupted for several awkward seconds while the audience looked on in shock – before Madonna got up and trudged back up the stairs and resumed the show.
The 56-year-old star is pictured above as she tilts backwards when she started to tumble. But the cringe-worthy moment when she landed on her ass (pictured below) failed to win her much sympathy from Twitter users who were quick to mock the star.
"I feel so bad for laughing at Madonna but I just can't stop!" tweeted one user.
Another suggested that the Madonna should now sing a cover version of the Chumbawamba hit, 'I get knocked down, but I get up again!'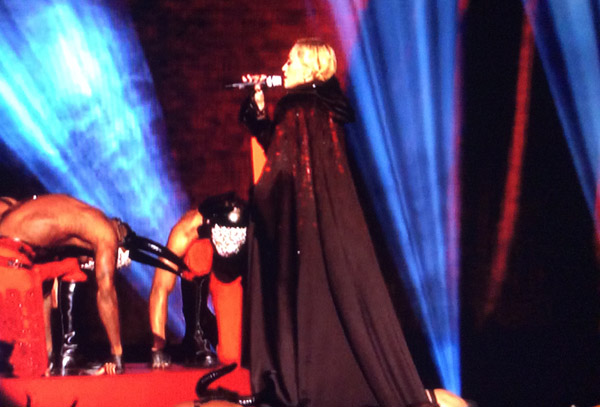 ABOVE: Madonna seconds before she falls. BELOW: She lands on her ass, legs akimbo.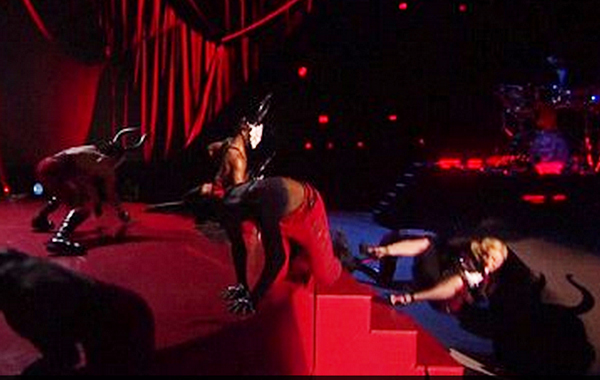 Our favorite tweet was the one that featured a photo of an old lady laying on the floor with a walking stick, bearing the caption '#Madonna Have you had an accident in the workplace!'
Madonna we feel your pain – but we gotta admit that it's f***ing funny.
* You can see video of the moment here. Meanwhile head to FilmOn.com for live TV. You might also like to read the following:
Mail Online: Madonna, 56, falls down the stairs
The Guardian: The Brits Reviewed
 Madonna says web leak is artistic terrorism