We have all heard the word "aloha" used; whether it was in Hawaii, on television, or at a tropical themed party. But there is so much more to that word, something only people from the island would know…
The name might not be too familiar yet — Yancy Medeiros — but it will be. The 26-year-old UFC lightweight fights and trains as an island warrior and at the same time brings the "aloha spirit" wherever he goes.
Call me biased, but I have always been keen to the Polynesian culture because, well, I'm half Polynesian.  (I'm a hybrid of what you would get if you mixed Cain Velasquez and Mark Hunt, but instead of fighting I do writing. But that's for another story.) So when I see a fighter of the Poly culture that is American (we've seen some from other countries like Hunt, Ray Sefo, Soa Palelei), it is a rare occasion.
You might also like: MMA Q&A: Reader questions on Diaz, Silva and Mayweather vs. Pacquiao
We've seen B.J. Penn bring the Hawaiian culture to his fights, but Penn wasn't of actual Polynesian descent and his work ethic didn't have the Polynesian warrior mentality.
For Medeiros (who is Hawaiian, Portuguese, and Filipino), aloha isn't just a word, it's a lifestyle.
Born and raised on the island of Oahu and raised on the Westside, there is nothing touristy about him.  With a 10-1 record (with his lone loss being a doctor stoppage from a dislocated thumb) and being a UFC fighter on his way up, his popularity will be on the rise.  But being around him, talking with him, and understanding the Polynesian culture, I get the sense that success hasn't changed him, nor will it.
"Hawaii is about the people, my family, that aloha spirit," Medeiros said. "People give and don't expect anything in return."
You might also like: MMA Update: UFC 169 sets record, 2 fans stabbed, Belfort vs. Weidman controversy
Medeiros splits his time between Hawaii and Northern California, and is part of the  Nick Diaz Academy Gracie Fighter.
"I had my first Strikeforce fight in 2009," Medeiros said. "There was Nick and Nate [Diaz] cageside and Cesar Gracie asked me if I wanted to train. I said of course since I look up to them because they're real fighters, they go in there and fight. After I went up there to train, they asked me if I wanted to be part of the team and I said yes it would be an honor to be a part of the boys."
Medeiros began his career at middleweight and weighed 245 pounds before moving down to lightweight when he started training in California.
"Before I started MMA, I painted full time, working 40 hours a week, eating a shitty diet," he said. "When I started training with Nick and Nate I followed their nutrition, followed their work ethic, and as simple as I'm saying it — it was as simple to follow for me. I just followed what they did."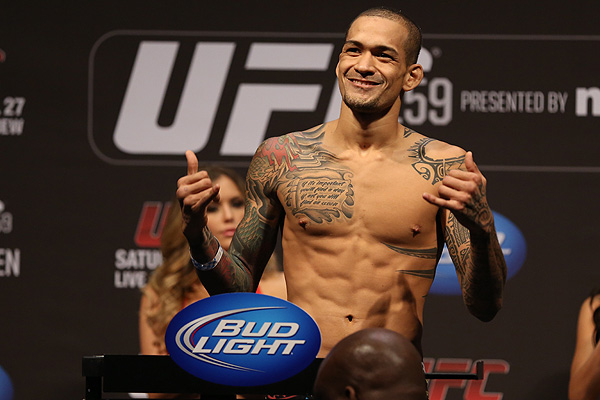 You might also like: Bruce Lee, MMA star? How the 'father of mixed martial arts' would fare today
His next fight is with Joe Ellenberger (brother of UFC welterweight Jake Ellenberger) at UFC 172 in Baltimore on April 26.
"He has a good record. His brother is tough. But you sign that paper, you get on the scale. Not to sound like a jerk, but you're trying to beat my ass," Medeiros said.
Medeiros has never been in a street fight and says fighting in the Octagon is "just business."
Kano: Do you have the same mentality as Nick and Nate when you go into a fight?
Medeiros: I'm the exact opposite of them, but don't punk me. I got that Poly pride, but I'm calm and collective. I've been to Cali so I understand that mentality — everything is go go go, while everything in Hawaii is more laid back.
Kano: Did you see Nate's comments after the Benson Henderson/Josh Thomson fight?
Medeiros: Yea. Nate's real. I feel like when I'm in a fight, I'm trying to put on a show, I'm not trying to shake hands. It's a fight, the other guy is trying to knock you out.
In a division that is shared with his teammate Diaz and friend Gilbert Melendez, I wondered if he'd fight one of them.
"Never!" he said. "One thing I learned from karate and Nick and Nate, I'd never fight a friend. That's never crossed my mind. You'd never see Nate fight Gilbert."
Kano: What are you're goals in MMA?
Medeiros: I want to open my own gym to support my family, I don't want to be filthy rich, I just want to spread martial arts.
Kano: You don't want to win a championship belt?
Medeiros: Oh, of course! I want that strap that shows you're the best, but if my friends are ever champions, I would never fight them, maybe go up or down in weight classes.
Kano: Anything else?
Medeiros: I'd like to thank you, I represent Hawaii and Polynesians, and all I'm trying to do is be a martial artist and rep Hawaii and rep my team.
So, next time you hear the word "aloha," don't get it twisted around for a simple greeting. It is so much more, something Yancy "Aloha Spirit" Medeiros embodies in the cage and in what really counts — life.
David Kano is lead writer for MMA Show News and co-host of The Hollywood MMA Show. You can follow him on Twitter @TheDKano.
You might also like: MMA's Jessica Penne mulls bid for Ultimate Fighter belt, says she's 'unapproachable' (Q&A)
Watch UFC Next on FilmOn:

Follow TV Mix on Twitter: @tvmixusa
Contact TV Mix: editors@tvmix.com
SOURCE: TVMix.com