The news we've all been waiting for has arrived – Kim Kardashian and Kayne West have announced the name of their new baby boy …  and the internet has gone into meltdown.
In case you haven't heard, the couple's latest off-spring is to be called SAINT WEST. We know that Kanye likes to behave like God but labelling your own kid as a saint takes things to a new level.
We kinda feel sorry for North though, because whilst baby bro is called 'Saint' she's still named after a f***ing direction on the compass!
As you can imagine there's been a lot of comment online, but here's our favorite reaction from Twitter:
"@AustinSommer: Wait wait wait, they named the baby "Saint" West? I guess South was taken by the airline company…"
Kanye likes to refer to himself as Yeezus and in 2013 he released a track named 'I am God' (Ginger Clam shakes her head) – which has resulted in an array of hilarious memes featuring Kayne as Jesus (pictured below).
According to The Daily Mail, Saint was chosen because Kim and Kanye feel this child is truly 'a blessing.' A source made similar comments to E! News.
That's it, we're done. Maybe just stop at the two kids guys, we can't handle another!
* Keep up with showbiz news at FilmOn.com, where there are hundreds of free TV channels to choose from.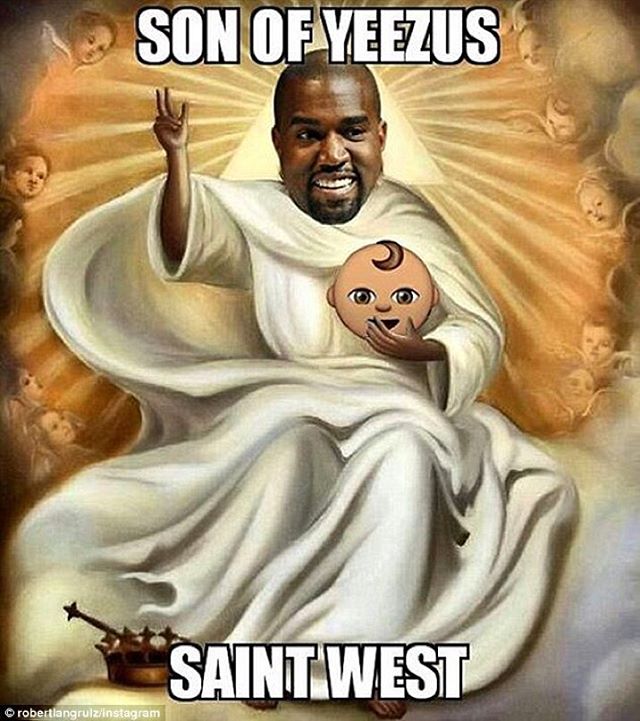 You might also like to read:
Kim K pops out baby number two!
Paris Hilton gets cheeky by showing her butt in Paper Magazine
Pam Anderson to pose in Playboy to make it a Happy NUDE Year