In all the excitement of seeing pop granny Madonna take a tumble, the world seems to have kinda forgotten about Cara Delevingne's eye-poppin' comments at The Brits.
In case you missed it, the 22-year-old supermodel was announcing Pharrell Williams as the winner of Best International Solo Artist at the UK awards ceremony when she told male presenters And and Dec:
"I'll be the meat in your sandwich, anytime!"
Here at Ginger Clam HQ that's just the sort of dirty talk that brightens up our day – but it prompted a flurry of disbelieving tweets from viewers who were shocked by the naughty minx (we can only thank god she didn't express a liking for seafood sauce on her clam).
Meanwhile the rest of The Brit performances were GREAT but for all the WRONG reasons. Madonna's fall made us piss our pants, while Kanye West's stage outing was a joke because it was bleeped out by the censors (presumably for overuse of the n-word).
Most of the actual music on the night was a pile of s***.  Meanwhile, here's a photo (below) of Madonna landing on her back, legs akimbo … just because we can.
* For great live TV free on the web go to FilmOn.com, where there are hundreds of top channels to choose from.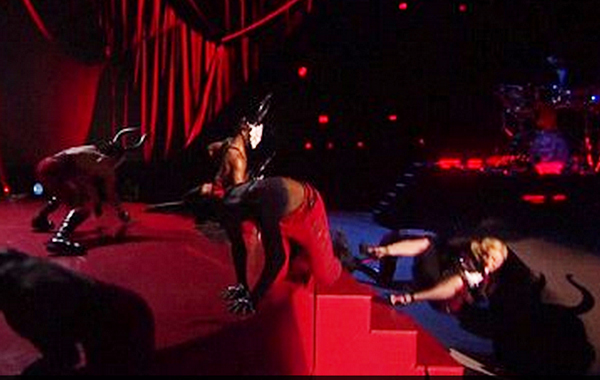 You might also like to read the following:
Mail Online: Madonna, 56, falls down the stairs
The Guardian: The Brits Reviewed
 Madonna says web leak is artistic terrorism