Lady Gaga has got a giant rock on her finger – after announcing she's engaged to actor Taylor Kinney.
The 28-year-old Poker Face singer posted a photo of her heart-shaped diamond ring on Instagram with the caption: "He gave me this on Valentine's Day, and I said YES.'
There's no information about how much the sparkler cost, but  we estimate it must be worth a s***load of cash. We're talking the entire economy of your average island in the Caribbean – and here at Ginger Clam on TV Mix we love nothing more than a nice ring-piece.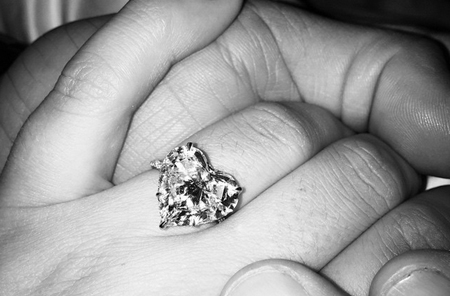 Gaga and Kinney – who met on the set of her 'You and I' video in Nebraska – have yet to set a date but they've been seen celebrating at her family's restaurant in New York. Taylor also posted the above photo of the couple at the top of this page onto his own Instagram.
In 2013 Gaga told chat host Ellen DeGeneres: "He's a hidden weirdo. He is extremely strange, actually we complement each others weirdness."
Let's hope it's not a Bad Romance. Meanwhile for top showbiz news and great entertainment head to FilmOn.com, where there are hundreds of great free live TV channels to choose from.
You might also like to read:
Lady Gaga talks about the 'insanity in her life'
Gaga reveals her bendy body on Instagram
Mail Online: More about Gaga's engagement