Boxing will never go away. It may be fading because the rise and popularity of mixed martial arts, but big boxing events will always draw plenty of money from diehard fans to casual fans.
It's sort of a ritual when friends, associates, and family get together for a boxing event. From the appetizers to barbecues, beer, wine, spirits, desserts — there seems to be a special place for boxing among fans.
You might also like: Manny Pacquiao vs. Mayweather off; Timothy Bradley to face PacMan instead

On Saturday, Saul "Canelo" Alvarez (43-1-1) took on Alfredo Angulo (18-4), in a fight I didn't think would initially get much attention, but was wrong and Twitter was going crazy with fans come fight time.
The two Mexican countrymen came in swinging, but Canelo was getting the better of the exchanges early on and Angulo's head became a target and punishment from Canelo's overhand right, jabs and uppercuts. It was apparent Angulo wasn't going to win and I questioned if his corner should throw in the towel in the mid-rounds.
You might also like: Floyd Mayweather "picks" his next opponent for May 3 date

Angulo kept fighting — even when rocked with huge punches — but referee Tony Weeks had finally seen enough when Canelo connected with a big uppercut, and he came in to call of the fight in round 10, with the Mexican protesting the stoppage. A great stoppage by Weeks, which I think was in the best interest of Angulo and prevented from two and a half more rounds of pounding.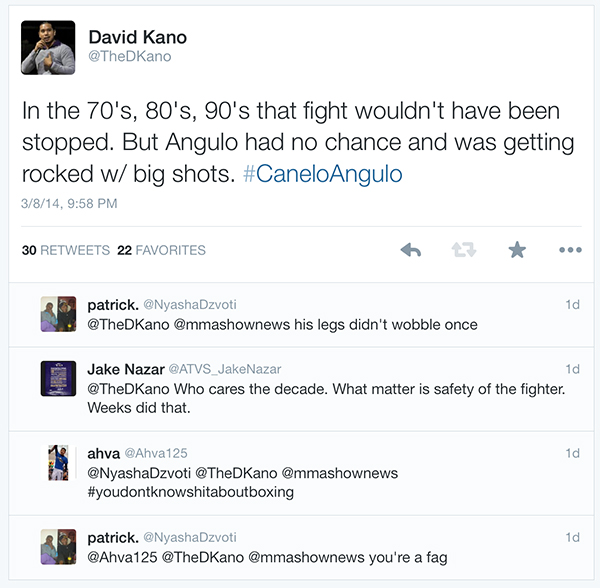 I also tweeted that if this had been years past, the fight would have gone on, with a fighter taking unnecessary damage.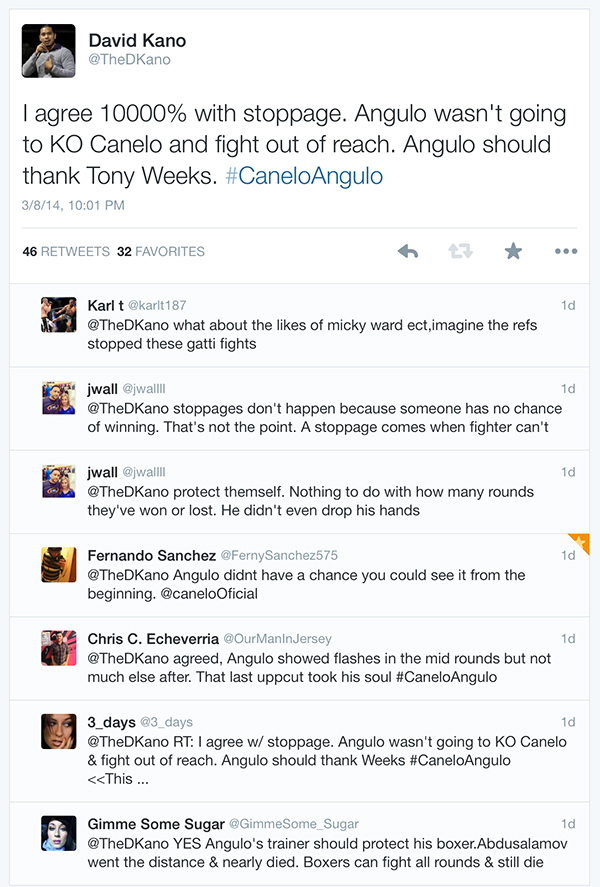 That brings up the question — will Canelo get another shot at pay-per-view king Floyd "Money" Mayweather? Their previous fight was the highest grossing PPV in history, taking in over $150 million with 2.2 million buys, with Mayweather set to take on Argentina's Marcos Maidana May 3; but don't look for this to come to close to the numbers he did with Canelo.
You might also like: MMA Q&A: Reader questions on Diaz, Silva and Mayweather vs. Pacquiao
Even though Canelo lost a lopsided decision to Mayweather, in which he was simply outboxed, outclassed, and schooled — Canelo still has a huge following in Mexico and the United States. Since Mayweather's primary love is the dollar, look for the two to mix it up one more time before Mayweather retires.
The next question would be, (outside of winning) can Canelo make weight?
Canelo missed weight against Angulo, and had to forfeit $100,000 to Angulo. For his fight with Mayweather, Canelo was forced to make 152, which he did. But as Canelo gets older, it will be tougher for him to make weight and will be interesting to see what stipulations Mayweather would want if the two decided to do part two.
David Kano is lead writer for MMA Show News and co-host of The Hollywood MMA Show. You can follow him on Twitter @TheDKano.
Watch the UFC Channel on FilmOn:
Follow TV Mix on Twitter: @tvmixusa
Contact TV Mix: editors@tvmix.com
SOURCE: TVMix.com