One Direction's Irish heart-throb, Niall Horan was left seriously pissed off after a fan took a picture of him sleeping on a plane – how creepy!
The admirer shared the photo online with the caption: "And to sum up the perfect European adventure, I sat directly next to Niall from One Direction for 9 hours on my flight home from London last night. He was sick and asked for no selfies, but here is a pic I snapped when he was sleeping lol he was so friendly."
It's safe to say once Niall found the snap, he lost his shit – here's what he posted on his Twitter page, @NiallOfficial: "I think this shit is unreal. I mean if you can't sleep on a plane without people taking photos of you,what can u do"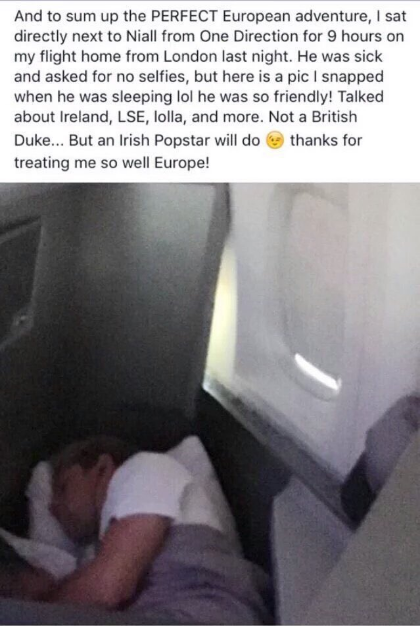 Sounds like someone woke up on the wrong side of the bed.
Claiming it's "unreal" is a tad strong … not like you were teabagged, bro!
* For more entertainment news go to FilmOn.com, where there are hundreds of FREE TV channels to watch
You might also like to read:
Niall Horan buys a haunted house
Emily Ratajkowski defends naked selfies!