Soccer icon David Beckham stars alongside US actor Kevin Hart in a hilarious new viral video that sees the pair jump side by side into ice baths.
The footage was filmed for fashion retailer H&M and shows Hart following Beckham as he supposedly prepares for an audition for a movie called 'I Beckham'.
Hart is shown living with the former World Cup captain and following his daily routine. But the Hollywood actor oversteps his boundaries as he observes him whilst he sleeps, copies his outfits every day and uses his toothbrush.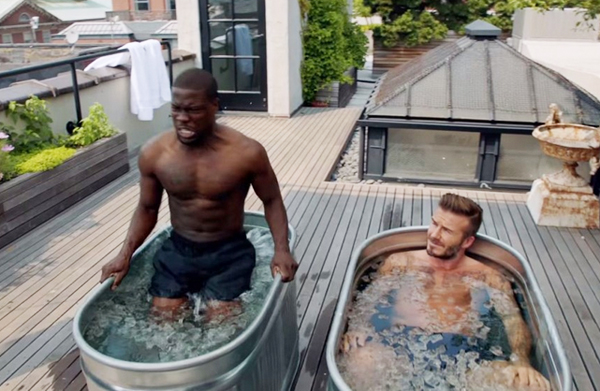 To sum up the mini movie, Kevin Hart gets the role and the movie becomes a super hit, featuring on the cover of Hollywood Reporter with the review: "More Beckham than Beckham" … plus of course there's the bath-time scene.
Watch and enjoy.
* Meanwhile go to FimOn.com for hundreds of free online TV channels that you can watch via desktop, tablet or smartphone.
For more stories, check out these links:
Breezy to be barred? Chris Brown faces battle to get visa for Australia
I'm proud of my wife! David Beckham ignores jibes and praises Posh
That's pants! David Beckham stars in spoof underwear advert with James Corden