Nicole Richie proved once again what a trailblazer last night when she accidentally lit her hair on fire while celebrating her 40th birthday. In a video she posed on her Instagram page, she was celebrating with a small sheet cake that what appears to feature a photo of her childhood self on it.
As the television personality leaned forward over the cake to make a wish, she didn't realize that the two corner candles at the bottom were still lit. As a result, the ends of her curly hair caught on fire.
The flames then spread up the right side of Richie's hair before she realized what was happening. When she did, she began screams and managed to lean out of the way of the candles and pat the flames out with the help of a friend.
The actress didn't share details on whether she was hurt during the accident. However, she appeared to be in good spirits when she joked about the situation on Instagram. Along with the video,which garnered nearly two million views in its first 12 hours, she wrote, "Well… so far 40 is ?."
The House of Harlow fashion designer's friends and family were quick to comment on the video, both in shock and to check that she was doing okay after the incident. Her younger sister, Sofia Richie, commented, "OH MY FUCKING GOD!!!!!!!!!!!" She then added, "That's hot," in reference to the catchphrase from her older sister's hit 200s reality show, 'The Simple Life,' with Paris Hilton.
Richie's co-star also joined the comments, writing, "OMFG! Happy Birthday! Hope your ok! love youuuuu."
Other stars who also expressed their shock included Kelly Rowland, who wrote "My heart just dropped!!!!" Fellow singer Katy Perry also chimed in, exclaiming "WAIT NO WAY WAIT OMG".
Naomi Campbell also wished Richie a happy birthday, commenting, "Happy birthday Cuz , are you ok Cuz. ? May reign on is all"
The media personality's husband, Joel Madden also wrote a sentimental Instagram tribute to his wife on her birthday. He wrote, "Happy Birthday Nicole. You've made love feel timeless I've forgotten how old we are."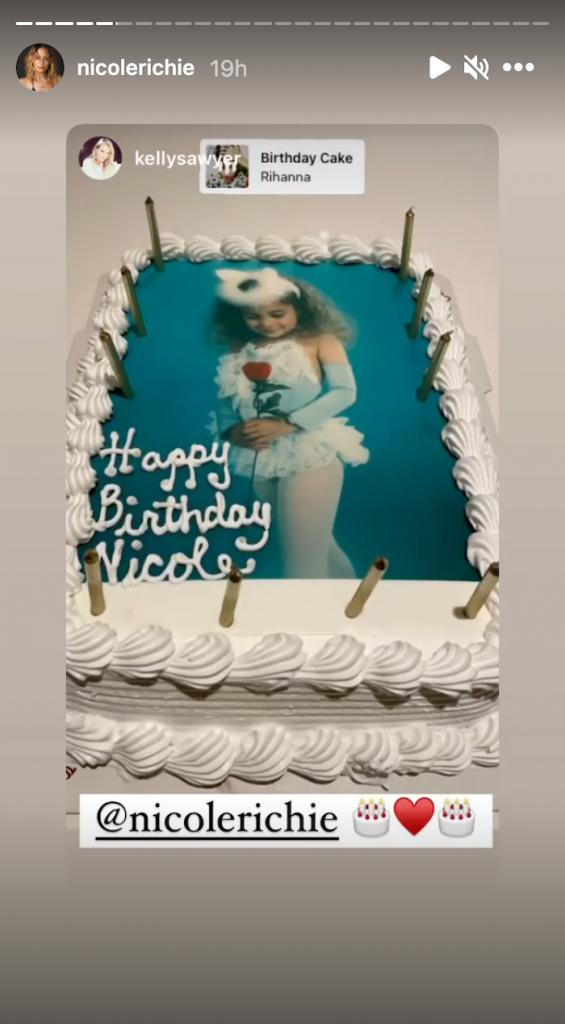 Richie shared several moments from her 40th birthday celebrations on her Instagram Stories. She included a picture of the cake in question, as well as a picture of herself when she was younger doing ballet.