For one second Hollywood took a collective breath over the weekend to lament the loss of one of its own, when rumors began to circulate that Macaulay Culkin had been found dead.
The fake story appeared on a satirical website and was zapped around the world, despite the fact the Home Alone star is very much alive. The 34-year-old actor decided to lampoon the rumours – by posting a photo of himself while pretending to be slumped unconscious.
Strangely, some might say the likelihood of the 34-year-old actor being offered a role in a Hollywood film actually increased until the photo below of him pretending to be dead proved he was in fact alive!
Culkin, now singing with his band Pizza Underground, posted the image on Twitter and Instagram, staging a scene from 1989 film Weekend at Bernie's, where two workers try and cover up the death of their boss by pretending he is alive.
Perhaps death rumors gathered momentum so fast due to the fact that the last time we heard of Culkin on Ginger Clam he was dodging beer glasses and other missiles being thrown at him during his band's ill fated tour of the UK!
A Hollywood insider later confirmed that Macauley was alive but said that speculation remains that his career may still be dead!
* Meanwhile, if you love REAL celeb gossip, go to FilmOn.com where there are loads of great entertainment channels and Vodcasts to choose from for free, including TMZ live (playing below).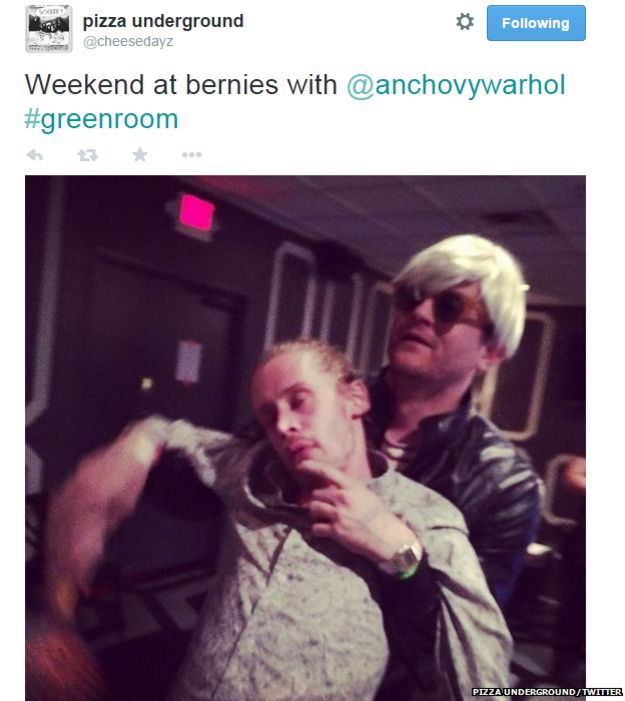 WATCH TMZ LIVE – BELOW