Oh no, grab your tissues Clam fans, poor lil Taylor has been pouring her heart out and revealing some tear-jerking home truths.
Despite being the world's biggest pop star, a multi-millionaire, hot as a sausage supper and adored by half the world… poor Taylor seems convinced that she'll be single until she hits her dirty thirties.
Ginger Clam was sobbing into her hanky as Taylor gushed:
"I'll be 30, I'll probably still be single, let's be honest. No one's going to sign up for this and everything that goes with it. Like, "Hi, nice to meet you, want a date? Do you love camera flashes? I hope you do!" I don't know what's going to happen if I'm ever content in a relationship – no idea how that's going to work. I don't even know if that's possible with the life I have."
To make matters worse, Swift told the Telegraph that she fears a lonesome life lies ahead, one where she will be stuck inside stroking her pussy…
'"In five years' time she'll be so afraid of everything, she doesn't leave her house, she's just surrounded by cats. So many cats, they've divided themselves up into armies and she wanders around lint-rolling the couch that no one's going to sit on because she's afraid to have people over… "
Clam is starting a campaign to find Taylor a man. Surely she doesn't have to end up with cats for company? Maybe a dog would be better, what about Snoop Dogg? He has nice hair. And Justin Bieber is a pussy, so maybe he could fit the bill.
Send your best suggestions to Ginger Clam and she'll make it happen. Taylor is too sexy to have a cold clam for the next five years.
* For great live TV free on the web go to FilmOn.com, where there are hundreds of top channels to choose from.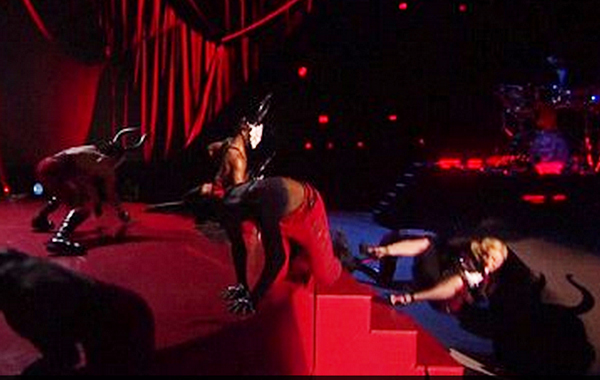 You might also like to read the following:
Mail Online: Madonna, 56, falls down the stairs
The Guardian: The Brits Reviewed
 Madonna says web leak is artistic terrorism