2013 seems to be the year of tasteless costumes for celebrities and non-famous folk alike.
It all began with country singer Julianne Hough wearing blackface to supposedly pay tribute to actress Uza Aduba, who plays Crazy Eyes on the Netflix hit series, Orange is the New Black.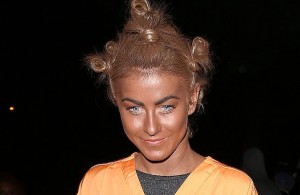 After wearing the offensive costume, which included an orange jumpsuit and knotty hairstyle, to a Beverly Hills Halloween bash on Friday. Hough took to social media to deliver an apology, tweeting, "I am a huge fan of the show 'Orange is the New Black,' actress Uzo Aduba, and the character she has created. It certainly was never my intention to be disrespectful or demeaning to anyone in any way. I realize my costume hurt and offended people and I truly apologize."
Next up we have the newest viral sensation, three people from Florida who have since been ruthlessly vilified for their racist costumes. All in their early twenties, William Filene dressed in blackface and a grey hoodie complete with bloody gunshot wound so he could be Trayvon Martin. Greg Cimeno wore a black shirt that said "Neighborhood Watch" in white lettering so he could be George Zimmerman; he completed the outfit by posing for a photo with his fingers pointed at Filene like a mock gun. Last there is Caitlin Cimeno, dressed as Robbin Da Hood (how clever!), who stupidly posted all the photos to Instagram and Facebook.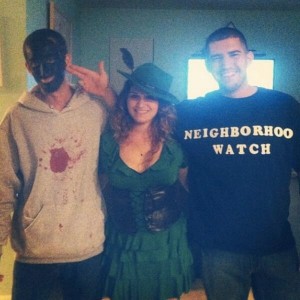 There's been a rage of Internet fury since the photos started making rounds on Saturday. Besides the blackface, ignorance and utter disrespect of the murder of a 17-year-old boy, what's not to hate?
Not to leave anyone out, costumes seen in Lake Tahoe and Chicago mock the July Asiana Airlines crash in San Francisco that left three girls dead and 100 others injured. The costumes consist of ripped airline pilot uniforms covered in blood, topped off with the politically incorrect nametags that were cited as the real crewmember names. Anybody remember "Wi Tu Lo, Sum Ting Wong and Ho Lee Fuk" from San Fran's KTVU news coverage?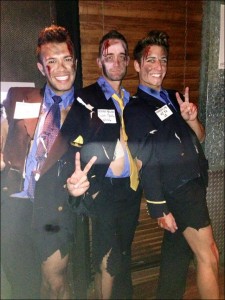 There have also been rumors surrounding a zombie Lou Reed costume. The legendary Velvet Underground rocker died Sunday after going through a liver transplant in May. The 71-year-old musician was an inspiration to many and proved to be one of the most influential forces in the transformation of rock music. It's fair to say that a zombified Lou Reed is too soon.
Between mocking the murder of a 17-year-old, racism and disrespecting death, we cant imagine what they'll come up with next, and frankly, we don't want to.
Enough true-life horror stories, watch round-the-clock scary movies on FilmOn:
Related Links:
Gotta Watch for Halloween: Embryo (1976)
Lou Reed RIP: The world opens a vein for the fallen Rock and Roll king
Julianne Hough commits blackface faceplant at party for "Oprah's favorite tequila"