Keeping Up With The Kardashian's star Bruce Jenner must of got a nasty shock when he walked past the newsstand.
In Touch magazine has apparently photoshopped his head onto actress Stephanie Beacham's body for a piece that claims he is about to announce himself as being transgender.
The headline on the front cover of the January reads: 'My Life as a Woman' and is complimented with a picture of Bruce looking like a female.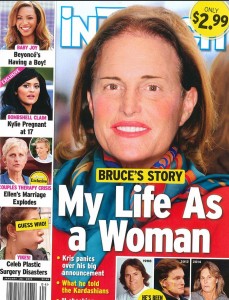 It has, however, now been revealed that the image was edited, and in fact Jenner's face was superimposed onto an image of Dynasty actress Stephanie Beacham.
Buzzfeed were the first to make the discovery, and when you compare the original with the edited image, there is no denying that the Bruce Jenner version has derived from the Beacham photo.
According to TMZ, his ex-wife Kris is furious at In Touch for publishing the piece, and sources close to her have stated that she thinks, "it's just mean to do whether or not it's true."
In Touch reckons that Bruce is soon going to make an announcement about his gender in The Advocate, but the publication has denied this.
Bruce, a former Olympic gold medalist athlete, is according to TMZ not too fussed as sources close to him said: "He doesn't even pay attention to this stuff."
Man or woman, Ginger Clam HQ at TV Mix doesn't really care, but we do think that plastic surgery could easily make Bruce, Kris and Kim Kardashian morph into a very similar looking face that doesn't look like either a male or a female. Now wouldn't that be something.
Meanwhile, if you need your daily fix of great entertainment then tune into FilmOn TV Live (below) – via the free internet TV portal FilmOn.com – where there are hundreds of great live web TV channels to choose from.
For more stories, check out these links:
Rihanna and Leo DiCaprio seen 'kissing at the Playboy mansion,' according to party-goers
When stars get naked! Miley Cyrus joins celeb nudity club by posing for photo in bath
It's Taylor Whiffed! Spoof video shows crazy dude doing 'fart remix' of Taylor Swift song