Los Angeles County Sheriff Alex Villanueva is meeting with several other government officials to continue protecting his fellow Californian residents during the last few weeks of his campaign to be re-elected for a second term. Sheriff Villanueva will meet Richard Mack, the former sheriff of Graham County, Arizona at billionaire businessman Alki David's home in Malibu to discuss the ways they can stop the crime syndicate led by disgraced former attorney, Tom Girardi.
The trio will be joined by several other government officials during the meeting that's being hosted by David, who serves as the CEO of social streaming television service, FilmOn. Joe E Collins III, the Republican Congressional candidate for California's 36th district, and lawyer activists Ronda Kennedy and Michael Kennedy will also share their thoughts on how to help stop the criminality that's occurring throughout the state during the meeting
Sheriff Villanueva and his fellow government officials believe that California's residents are being harmed and manipulated in part by Girardi and his fellow disgraced attorneys, including Gloria Allred and her daughter, Lisa Bloom, whom David refers to as Scam Inc. The businessman has publicly shared his decade-long fight to prevent Girardi and his allies from making repeated false accusations against him. He most recently shared details about his efforts to stop Scam Inc. in a recent Instagram video.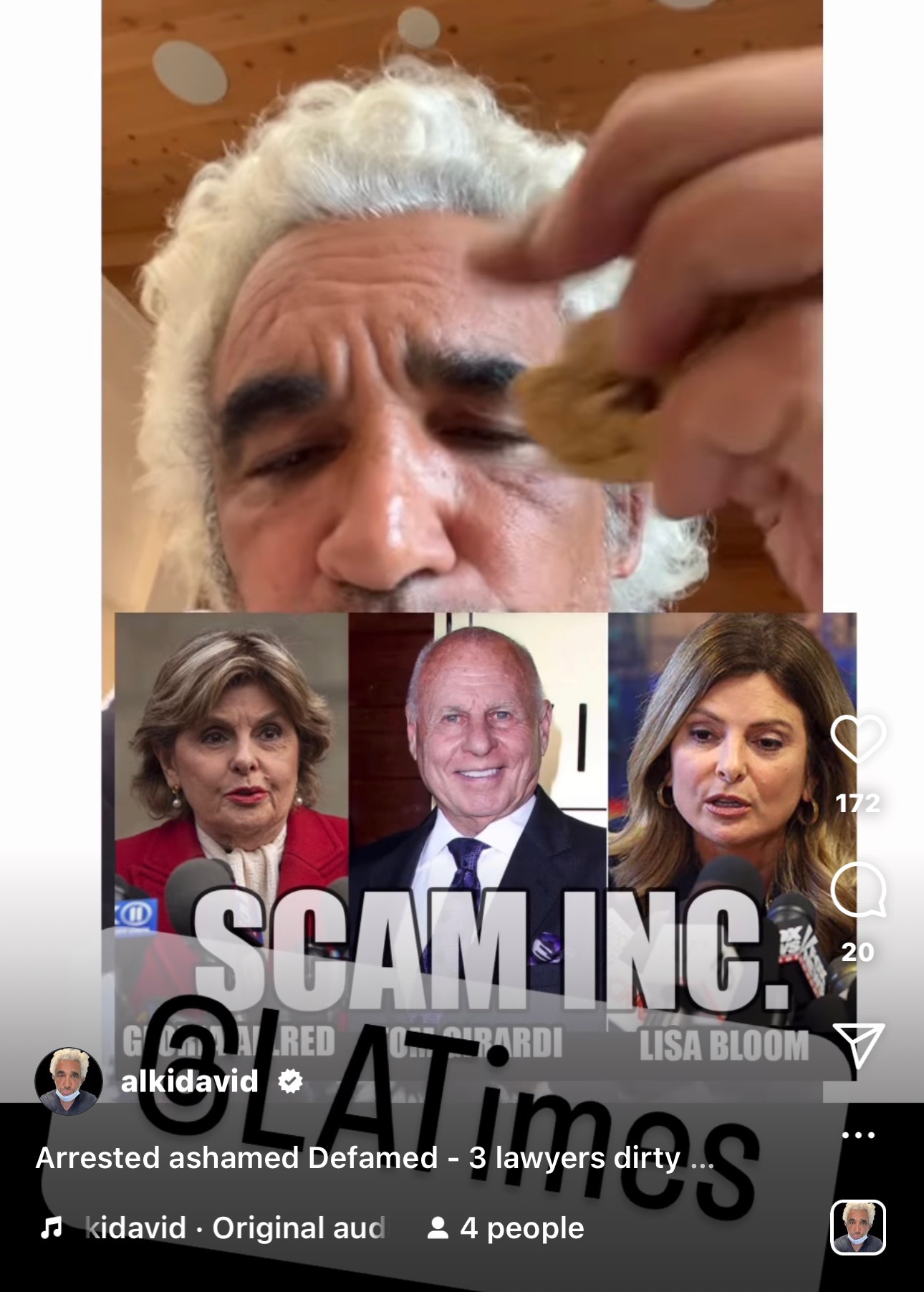 Sheriff Villanueva initially shared his intention to continue enforcing his new policies that are aimed at improving L.A., including stopping Girardi and his fellow lawyers, as well as removing the homeless encampments that have plagued the city's streets in recent years, with David during a recent phone call.
"Alex plans to stand up to the 'woke' establishment, and continue to bring integrity to the L.A. sheriff department," the businessman said as he shared his support for re-electing the current L.A. County Sheriff.
Besides his call with David, Sheriff Villanueva's intentions on how he can stop the Girardi syndicate crime wave were also reported on in a new article by the LA Times.
Besides working to stop the Girardi crime syndicate, Sheriff Villanueva has garnered widespread support amongst his constituents during the final few weeks before the election for his tough on crime philosophy. He's also been celebrated for his approach to reorganizing the once-corrupt L.A. Sheriff department, which includes cutting budgets and firing incompetent budget staff and department policy makers.
Voters who are still unsure if they wish to re-elect Sheriff Villanueva can watch his meeting with David and his fellow government officials tomorrow at 4pm PT. The meeting will be streamed on Sheriff Villanueva's Filmon channel.