Rugby league player, Haydn Peacock, 23, lived out every dudes worst nightmare whilst playing a match in France.
Peacock, who plays for AS Carcassonne, received a shocking 11 stitches in his weener after an absolute horror tackle, where his opponent dragged him down by his ding dong. Why don't these guys wear cups?!
In fairness to peacock (or should we say no cock) he's taken it pretty darn well, in an interview with French Footy, the wounded warrior said:
"When we played UTC the other week their centre pretty much ripped my dick off.
"There's a photo of me screaming in pain, and I finished out the half.
"At half-time I was like, I've got to have a look. I checked on it and the skin is half ripped off and I was like, 'Shit, where's the doctor? Where's the doctor?'"
Here's what he had to say on Instagram: "haydnpeacock11 Not the best reason to be on the front page of the paper this morning. #rugbyleague is definitely not a sport I recommend. 11 stitches later for the little fella but she'll be right" (We think he means he!)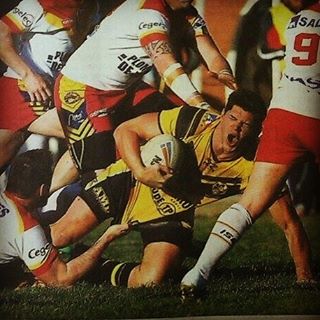 Incredibly Peacock even played the next game for his club and still refused to wear a cup, what a nutter!
Thankfully the crazy dude revealed everything is in perfect working order- way to go buddy… we'd recommend a little time before diving back into the ladies though!
*If you love crazy shit then head to BattleCam.com, the antisocial network where there thousands of great videos plus live stunts on interactive TV. 
You might also like to read:
Keanu Reeves is a real life bad-ass!
On top of the world! Is this the world's coolest stunt biker?
Conor 'the f***ing man' McGregor pays a visit to a super-fan!