The Killer Clown may be one evil bastard – but people just can't help coming back for more.
In case you've been living on Mars,  the vile circus freak is the star of one of the internet's most successful-ever series of prank videos.
The viral clips from DM Pranks feature a killer clown who goes on the rampage scaring the shit out of members of the public.
The first five episodes ran up over 180million views – and now the sixth instalment is expected to take the combined audience total to well past the 200 million mark.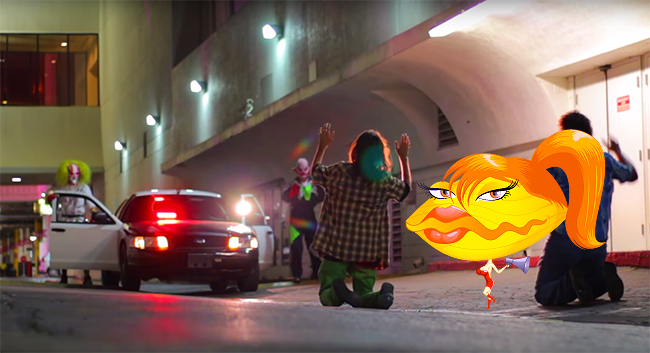 This time the mad f***er is let loose in Las Vegas. The clown and his buddies occupy a 24 hour gas station, haunt hotel corridors and use vehicles belonging to the emergency services.
It's safe to say that the victims get a good scare thanks to the creepy-looking clowns using plenty of fake blood and props that look like dead bodies.
Watch the video below. Meanwhile if you love crazy shit then head to BattleCam.com, where there are thousands of great videos plus live stunts on interactive TV.
For more stories, check out these links:
Killer Clown V! Outrageous video pranksters are back scaring the hell out of people
The Killer Clown is back for the fourth time – and he's scarier and crazier than ever …
Watch the ultimate Halloween prank featuring a man with missing limbs and a chainsaw!