WTH is Lisa Bloom going on about in this tweet?
She's making out as if Alki David has actually ever paid her a penny from her ridiculous and criminally malicious lawsuits.
Spokesperson for Mr. David, Rudy Delarenta had this to say; "Neither her or her mother Gloria Allred and her now disbarred business partner Tom Girardi will ever see a penny. They are a bunch of crooks. Plain and simple and they will end up in prison", said Delarenta. Lisa Bloom and Chasity Jones are facing sanctions for Jones' criminal attacks on Alki David Nov 10th in Los Angeles Civil Court.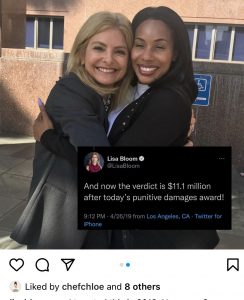 We think the "technicality" Bloom is banging on about is a poor use of the word, "Extortionist".
Bloom partnered with a career criminal called Chasity Jones who is currently avoiding arrest by the US attorney's office in LA for skipping bail and not paying back restitution for bank fraud conviction. Maybe Bloom and gang are mad that they have to face a criminal charges in Switzerland for Coercion and Financial Fraud.