It's a beautiful story that reminds us of many other great stories of freedom, Nelson Mandela being released from jail or perhaps 'Free Willy', when a dolphin or a whale escaped on a mototrbike or something.
It turns out that our fave bonkers star Kanye 'scrambled eggs' West helped set Brucey's pussy free into the wild. Who'd have thunk it? Beautiful.
Jenner spilled the beans (about his soon-to-be-removed beans) in a bombshell interview broadcast by ABC last night. He/she revealed that Kanye had taught him the importance of being true to himself – that West's shared wisdom had been a turning point in his journey.
Brucey's pussy said (we were lip-reading):
"Kim told me a story. She goes, 'You know what really turned me around on thinking about this?' I said, 'What?' She goes, 'Kanye.' I went, 'Oh, okay,'" Jenner continued.
"He says to Kim, 'Look, I can be married to the most beautiful woman in the world, I can have the most beautiful little daughter in the world, and I have that. But I'm nothing if I can't be me. If I can't be true to myself, they don't mean anything.'"
Added he/she: "Since then, Kimberly has been, by far, the most accepting, and the easiest to talk to about it."
The sensational interview contained many golden nuggets, including Brucey's admission that the Kardashian girls had caught him wearing dresses around the house, but kept it all a family secret. The national television broadcast, plus his upcoming E TV series about his pussy, will also help keep things top secret.
Ginger Clam applauds Brucey for setting his pussy free, we jest at the poor dude but the fact remains that his bravery will help others facing the same battle to be true to themselves… We expect John Travolta and Tom Cruise to announce their wedding shortly.
*You can keep up with celebrity news and entertainment at FilmOn.com, where there are hundreds of free live web TV channels to choose from.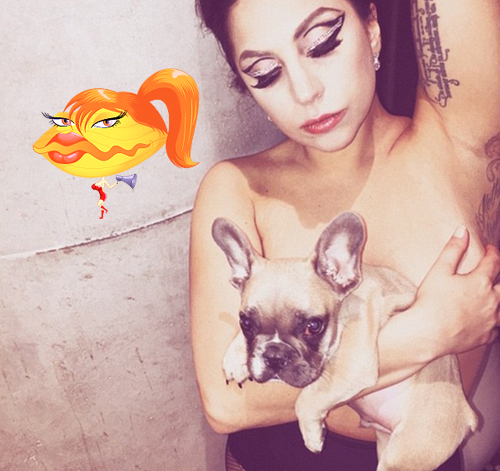 You might also like to read:
Mail Online: More about Gaga's pooch